We're all aware of many of the sacrifices our brave members of the military make on a daily basis. Extended time away from loved ones. The possibility of physical and emotional harm. And, yes, the ultimate sacrifice–their lives. All in the name of defending the freedoms our great country enjoys.
Every November, American citizens remember and celebrate our courageous heroes, the veterans of the United States Armed Forces, for those sacrifices and their service. This Veterans Day, Bridgeway Academy is spotlighting and saluting one of our own military families, the McVeys.
Meet the McVeys
Ron McVey, a Signal Support Systems Specialist, enlisted in the United States Army in 2003 and has accomplished quite a bit in his 20 years of service:
Ron deployed to Iraq with the 1st Cavalry from March of 2004 to March 2005 and again from October 2006 to January 2008. He also deployed to Kuwait in December 2011 for one year.
He served as a communications instructor at Fort Gordon for soldiers attending their Advanced Individual Training (AIT), as well as a KATUSA (Korean Augmentation to the United States Army) instructor at Camp Jackson, South Korea.
Ron was also a recruiter in Owensboro, Kentucky and a Communication Chief of 5-20 Battalion, 1-2 Stryker Brigade at Joint Base Lewis-McChord, Washington; he is currently an OCT (observer/coach/trainer) and signal planner for the Joint Readiness Training Center at Fort Polk, Louisiana.
He holds a Bronze Order of Mercury medal, which recognizes those who have demonstrated the highest standards of integrity, moral character, professional competence, and selflessness, and who have contributed significantly to the promotion of the Signal Corps and the Signal Corps Regimental Association.
Ron has also instructed combatives and holds Army certifications in Fitness Training and Master Resilience.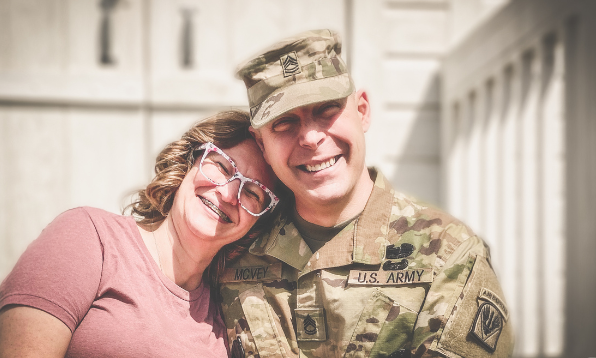 Manda McVey, Ron's wife of more than six years, takes her role as a military spouse to another level: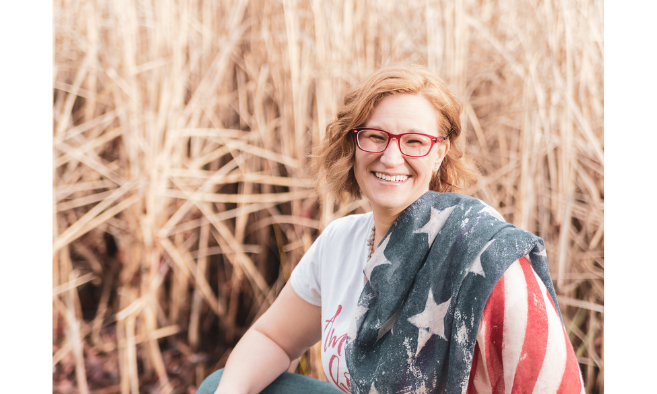 She coaches other military spouses and significant others to build resilience and wellness, with a focus on readiness, nutrition, and mindfulness. Manda also advises "gaining by giving" to help military spouses feel more included in their communities, on and off installations, and to build solid foundations to reclaim their health and resilience.
Manda was named Armed Forces Insurance's 2022 Fort Polk Spouse of the Year and is also a Spouse Master Resilience Trainer, Holistic Nutrition Wellness Practitioner, Behavior Change Specialist, Fitness Nutrition Educator, and Yoga & Meditation Instructor with over 3,500 volunteer hours under her belt. She uses these skills to help military spouses reconnect with their intuition to achieve overall wellness and resilience. "I consider myself to be an extremely resourceful person, and I get joy from sharing that with fellow military spouses. Bringing resilience, wellness, and resources to the military and first responder community is what I do naturally. Turning it into my full time job has been a dream come true."
Manda has also spent much of her time as a military spouse as a Soldier and Family Readiness Group Leader or Liaison. This extremely difficult responsibility involves working with command teams as well as the teams that help grieving families by supporting them in any way possible: meal-trains, house cleaning services, taking kids to and from school. "Whatever they need to make it through more easily than it might be without the support."
She also is the primary homeschool instructor for daughter Ella, a second grader in our Total Care Blended program.
Ella, as previously mentioned, is a second grader with Bridgeway Academy: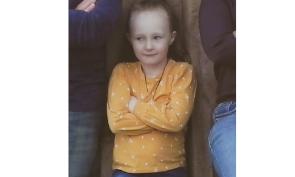 She says art is her favorite subject.
Ella's favorite part about homeschooling: "I don't have to wake up early and go to school. Because it's hard for me to wake up and get going, especially early."
Ella has auditory and sensory processing disorders, which caused challenges in a traditional classroom.

Living the Military Lifestyle
When celebrating those who serve or have served in the military, it's sometimes easy to forget about the people who support them the most. Spouses, significant others, children, and family.
Often overlooked is how military obligations and tours of duty impact the children who are too young to understand why mommy or daddy leaves and doesn't come home for months, if not years, at a time. And how military spouses and significant others toss and turn through sleepless nights wondering whether their loved one is safe.
Then there's the strain and burden placed on the shoulders of the wives or husbands left to raise a child (or children) on their own for months at a time, all while handling every other responsibility at home–paying bills, working, shopping, taking the kids to and from activities, and even educating the children. It is difficult to put yourself in the shoes of military families unless you've experienced it first-hand. Manda can offer that perspective.
"It really depends on the assignment," responded Manda after being asked how often Ron is away from the family. "At his first post-recruiting duty station, two months after we arrived, he was sent overseas on a training deployment for six months. He came home for three months, was gone for a month. Home for six, gone for another month."
"When we married, Ron was a recruiter, so I had no idea what to expect transitioning back to the 'regular' Army. Boy, did it show me how challenging it could be to be an Army wife!"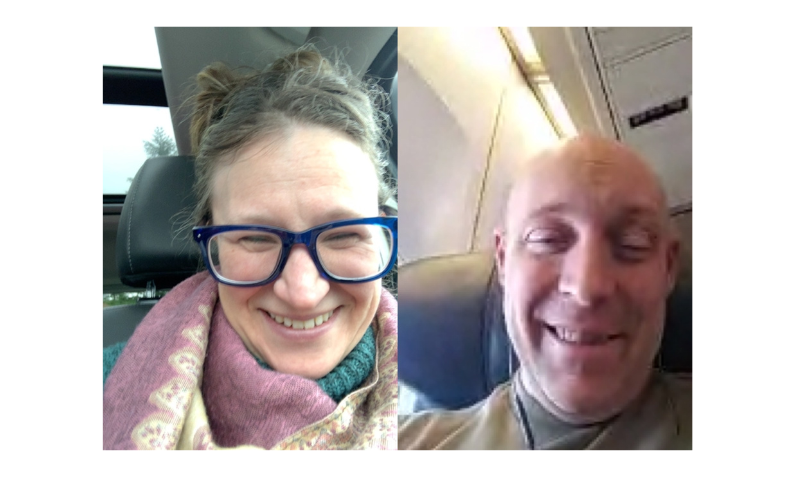 "At our current duty station, he was initially a trainer. That required him to basically work 24 hours on/24 hours off for two weeks at a time with a two-week break in between," Manda continued. "He also, surprisingly, was sent away for two one-month training assignments."
But there's another layer that further complicates these situations. "The more challenging aspect is reintegrating Ron back into the fold when he gets home because I'm so used to doing everything," Manda said. "But I also try not to rush him to get back in the swing. I realize he needs to adjust to being back at home as well."
"It's definitely challenging when Ron is away, but Ella and I try to have a routine we stick to, and that helps."
Though she misses her dad a lot when he's gone, Ella understands the significance of Ron's service and duties. She said, "It's really important because he helps train other armies and units to get better at what they do."
It's that understanding that helps Ella and Manda roll with the punches through the rollercoaster ride that is military life. "I'm very proud of my husband and the work he does," explained Manda. "I am proud to be a military spouse and understand that comes with a responsibility to be part of the community wherever the Army sends us."
On the other hand…"It's also exceptionally frustrating not having a lot of say in what will happen in your life sometimes," concedes Manda. "But then, something else happens that makes you grateful once again to be a military spouse and family."
Homeschooling as a Military Family
Military families are constantly on the move. It's simply a part of the lifestyle, one that many military families knowingly sign up for and deal with, no matter how exhausting and emotional it can become. How often and where military families move depend entirely on the service member's job and when and where they're needed. Manda has come to terms with this and explains the transient lifestyle as just a matter of fact.
"Most Army posts that Ron would be assigned are usually two- to three-year assignments," Manda explained when asked how often her family is on the move. "Some may be shorter or longer. It also depends on the housing market on and off the installation. Sometimes, as with all families moving to a new location, you take what is available only to move to a better option later."
So, how often has the McVey family actually relocated? "We have moved five times in six years," stated Manda.
Moving so often, aside from being a significant inconvenience, can be life-changing and even traumatic for kids. Constantly switching schools is never an easy experience for a child, especially once they're comfortable where they are and have made friends. This is one of the reasons Manda and Ron opted to homeschool Ella.
Ella has been enrolled in our Total Care Blended program since September 2022. The program provides an engaging mix of hands-on work with printed materials and books as well as online learning that Ella can use at her own pace.
"The ability to work self-paced with a general timeline of what ought to happen and when [with schoolwork] is a huge win for a military family," said Manda. "Like many families, we have relocations, holidays, life events, and more to balance. Add to that deployments, temporary duty assignments and/or training, multiple relocations in a short time, and other military life challenges, and homeschooling offers the freedom to support our kiddos emotionally as well as in their education when they need it."
"Homeschooling allows us to accept whatever duty assignment is best for my husband's career, without having to be concerned about the quality of schools in each area," said Manda. "There are also a lot of military-affiliated events that take us away from home for a few days at a time, so homeschooling allows us not to worry about our child's education while being able to fully participate in the community."
"Plus, it's nice that there's a military discount!"
Recommendations for Other Military Families
Determining how to handle a child's education can be a challenging one if you're a military family. First, there's the decision whether to homeschool or send your child to a traditional school, where friends could be made and then lost within a couple of years–or even months. Once that decision is made, though, where does a military family turn for the right homeschooling program? Manda has a few thoughts on this.
"I recommend making a list of what you do and don't want your homeschool to offer. Then, consider the future," stated Manda. "What I mean by that is, we live in Louisiana, which does not currently require accreditation for second grade homeschool programs. However, we have no idea where we'll be next and what the requirements will look like there. So, we chose a program that offered accreditation to make sure all our bases were covered."
Accreditation is extremely important in a homeschooling program, as Manda mentioned. And all of Bridgeway Academy's Total Care homeschool programs offer globally recognized accreditation as well as record-keeping and the support of our amazing academic advisors. "Tai (Ella's academic advisor) has been amazing," said Manda. "She is always super responsive and helpful."
Beyond homeschooling, Manda has much advice to offer spouses and families experiencing the emotional ups and downs of military life. It's what she does, after all, and she knows that these families need to support one another and stick together during difficult times. "I often remind myself that it is okay to have 'big feelings' and that we should allow ourselves, when appropriate, to process them in real-time," Manda explained. "I say 'when appropriate' only because I understand that in the 'real' world, there really are times that emotions might have to wait…if you're an attorney arguing in court or a parent speaking to your child's teacher, for example. Whereas, in a perfect world, we would never have to ask our emotions to wait. So, the second I have a moment to address what I am feeling, I take it."
She continued, "I encourage my family, clients, friends, and families in our unit to seek professional help to process challenging events and feelings. I really focus on the fact that we are all in this military life together and we are stronger together as well."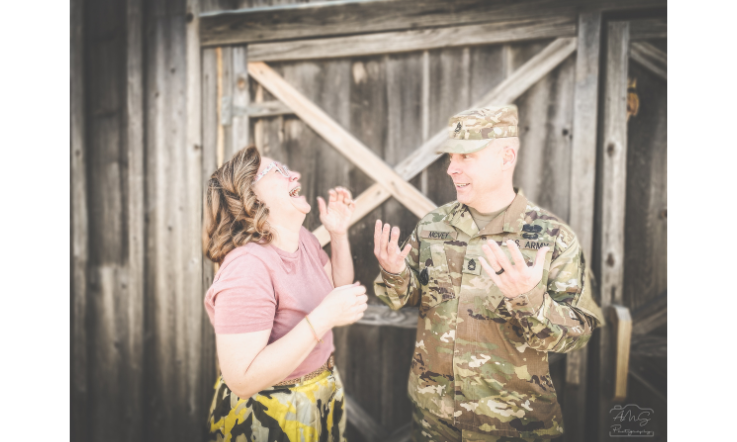 So while Veterans Day is a day for honoring the brave men and women who have served in the United States Armed Forces, it can also be a day to commemorate and celebrate the strong people behind our veterans. The military spouses and significant others who support their soldiers while running operations at home, and the children who look up to their courageous parents and appreciate the sacrifices they make, even if the cost is missing them while they're gone.
Children like Ella, who says that Veterans Day is "to celebrate people who have served our country" and that she is "happy and thankful" for our veterans. And, as part of a military family, Veterans Day means that much more to Ella, Manda, and Ron.
Are you part of a military family? If so, share your experiences with us below!