It's the most wonderful time of the year, the holiday season. During the next two weeks our family—and hopefully yours—will be doing less school and more intentional, fun family time to celebrate Christmas and New Year's. How can you make the most of this season without sacrificing your homeschooling routine and jeopardizing the momentum you've gained this year? The holidays don't have to be hectic for homeschoolers. Each year I work to make this season special in simple, enjoyable ways that make memories without losing sight of our homeschooling goals. Here's this year's holiday bucket list for homeschoolers, chock-full of 30-minute activities that will make your holiday season spectacular.
My Holiday Bucket List for Homeschooling Families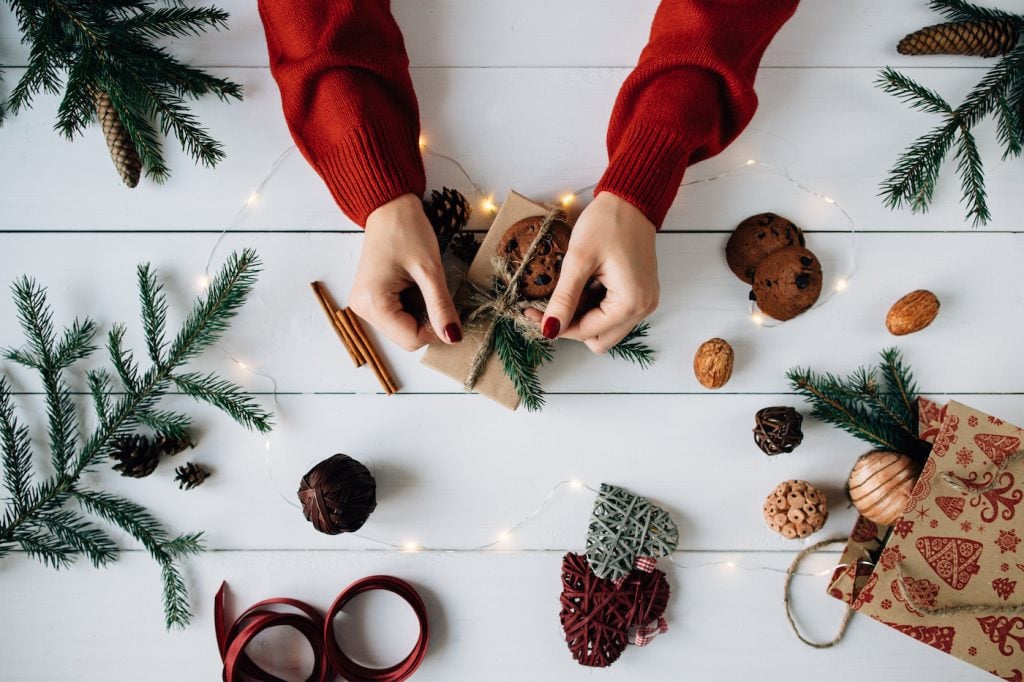 Create an Advent calendar and spend time together discussing the true meaning of Christmas. From the Jesse Tree to popsicle sticks, you'll find something that works for you on Pinterest!
Create a new Christmas tree decoration. From homemade ornaments to stringing popcorn to cranberry beads, create a new, homemade decoration to add to your twinkling lights.
Make graham cracker gingerbread houses. I don't know about you, but making gingerbread anything is at the bottom of my holiday bucket list because it's often messy and complicated. This tutorial from happinessisahomemade.net uses graham crackers. An added tip: use a hot glue gun to ensure the houses stay together. Genius!
Play Secret Santa with acts of kindness as your gifts. To make the season about giving—not getting—play "Secret Santa" to a few families in your neighborhood or church and "gift" them with random acts of kindness. Bake cookies, rake their lawns, shovel snow, or something else neighborly. Be sure to leave them encouraging notes to remind them of how much they mean to you this holiday season!
Memorize Christmas carols and research their history and meaning. Caroling is one of our family's favorite activities. Why not turn your music lessons this month into a walk down caroling history lane? Study famous carols and their authors and challenge your family to memorize them or connect them to specific passages in the Bible. Finish your unit by—you guessed it—caroling in your neighborhood!
See a Christmas show. Each year, one activity on our holiday bucket list is seeing a Christmas-inspired play, or show. This year we're going to the symphony as a family. From "The Nutcracker " to "A Christmas Carol," you're bound to have a local performance in your area that will put all of you in the Christmas spirit while supporting a local arts venue.
Make international holiday food. Take your holiday baking to a new level by making different holiday dishes from other countries. Use this guide from Saveur.com to get your mouth watering and plan your menu! Turn this into a lesson by pulling out the globe and doing a bit of research into the country with the dish of your choice.
Write a Christmas letter as a family. Sending out Christmas cards and pictures is a wonderful tradition. But why not integrate it into your homeschooling routine this month by having your learners draft the content for the Christmas letter? Your friends and family will love hearing from your little and big ones as they tell, in their own words and voice, what they've been up to this past year.
Whatever you choose to do this holiday season, remember to put the true meaning of Christmas first. Fill your days with thoughts and acts that honor the Savior born to raise the sons of Earth!
How are you planning to spend your holiday season? Tell us in a comment below!