Enroll Today for Accredited Homeschooling
Step 1: Pick the program that best fits your learner
Find the best fit for your learner! Not sure which program will work best for your family? Take an Immersive Journey to find the best option.
Step 2: Pick a payment plan that works for you
With Bridgeway Academy you can pay for your program in its entirety or set up a convenient monthly payment plan.
Step 3: Hit enroll and speak to your personal Advisor
Your personal advisor will give you a call to walk with you through the enrollment process and help you start strong. 
Find Your Best Fit. Let's Do This.
Make your selections below to see pricing and enroll in the program of your choice.
Have Questions? We've Got Answers
Take a moment to go through these FAQs to learn even more.
Are you accredited?
Yes. Bridgeway Academy is designated as an accredited non-public, non-licensed school (grades pre-K through 12) in the state of Pennsylvania. Bridgeway is also accredited through the following organizations:
Cognia
Northwest Accreditation Commission
Southern Association of Colleges and Schools Council on Accreditation and School Improvement
University of California A-G Courselist
Accrediting Commission for Schools Western Association of Schools and Colleges
*For more information, please visit our Accreditations page.
How flexible is your program?
What sets Bridgeway Academy apart from other homeschooling academies is that we are extremely flexible. We allow you to work at your own pace and set your own schedule as it pertains to the enrollment period you are registered within.
Will my student be able to go to college? Or back to public school?
Yes! As long as you are registered in one of our homeschool programs, your student will have a fully accredited transcript just like traditional schools. You may be excited to know our Bridgeway Academy alumni attend some of the most prestigious colleges and universities in the country.
I am international; can I still take your programs?
Bridgeway Academy has students from all over the world contributing to our diverse student body! Our international families love the flexibility of our self-paced program options that allow their student to do school work on their schedule. Not only do we provide high-quality American education, but your student will have the transcripts to more easily gain acceptance to United States universities.
*Not all of our current live online classes are scheduled for ease of international use. However, if you have a group of students in your area, we may be able to create a course and schedule that fits. Just ask our admissions team–OR–if you are already enrolled, your academic advisor!
Does Bridgeway Academy require students to work a certain number of hours per day, or does the student have to be online at a certain time each day?
Depends! Based on the classes and courses you choose, you can determine if your child would best benefit from all self-paced, structured live online, or a mix. Bridgeway Academy is very flexible, and students can create their own schedule and work at their own pace. For enrolled families, your dedicated Academic Advisor offers recommendations on pacing to help your student reach their goals.
*See our No Progress Policy in our Terms and Conditions.
Does Bridgeway align to Common Core?
Due to our belief that every student is unique and learns at his/her own pace, we do not implement or assess students based on any Common Core standards. However, after careful review, we adopt some programs that are also used by public schools. Which means that alignment to Common Core will exist for those programs. We offer curriculum from many publishers. In fact, some we are currently using were written before Common Core existed, yet there is a notable alignment to the Common Core standards presented on the publisher's website. This approach ensures that we are able to meet the diverse needs of our students.
How can I access my student's transcripts from Bridgeway?
What are your system requirements?
Why would I choose a Homeschool Accreditation program?
The Homeschool Accreditation program is a great option for families who have already selected their curriculum or are involved in homeschool co-op classes but are not quite ready to go it alone. A Homeschool Accreditation program means award-winning support, expertise and guidance from your personal homeschool advisor, and full accreditation and membership in the Bridgeway Academy community. Enjoy full support, professional records, accreditation, homeschool resources, and much more as an official Bridgeway Academy student.
*For more information, please visit our Accreditations page.
What is included in the Homeschool Accreditation program?
Complete record-keeping and accreditation and unlimited support, including homeschool advice and expertise, report cards, transcripts, permanent records, honor roll, community events, and membership in the Bridgeway Academy homeschool family. Up to seven courses. Grading is not included.
Does my Homeschool Accreditation ONLY program include curriculum?
No. The Homeschool Accreditation program is designed to allow parents who are confident in their curriculum choices to take advantage of complete support, records, and accreditation while using their own curriculum. We require advisor approval of each course prior to beginning the courses. If you need assistance with curriculum, please check out our Homeschool Academy program, an all-inclusive homeschool program that includes a full year of curriculum along with unlimited support and full accreditation.
What kind of curriculum can I use with the Homeschool Accreditation program?
If you choose the Homeschool Accreditation program and will be using your own curriculum, we require advisor approval of each course prior to beginning the courses. Along with a completed application of course approval, the following documentation is needed in order for curriculum to be approved: syllabus, hour time requirement per course, and suggested grade level aligned to the course. Upon completion of the course, completion evidence and progress status/competencies must be submitted. High school courses must include the credit amount as well as specific criteria for progress monitoring. Your advisor will let you know if the course has been approved prior to the start of the course.
What does a Homeschool Academy program include?
As an all-inclusive program, the Homeschool Academy program includes everything you need for the school year, personalized to your student, and customized to meet the needs of your family and schedule. This means you receive up to seven courses of curriculum: math, social studies, science, English language arts, and electives. The program also includes all instructor guides, full support, accreditation, and membership in the Bridgeway Academy community.
Why would I choose the Homeschool Academy program?
Bridgeway's Homeschool Academy programs are all-inclusive and fully accredited. That means you receive our award-winning support, expertise, and guidance along with a full year of curriculum or online courses designed specifically for your student. Worried about records? We've got that. Not sure what courses make sense? We've got that too. Have a student with specific learning needs? We have you covered. Trusted since 1989, Bridgeway Academy is passionate about homeschooling and stands ready to make your job easier.
How long does it take to get started in a Homeschool Academy program?
Because there is no such thing as a one-size-fits-all program, it does take time to get your student's perfect homeschool program organized and on its way. We ask that you allow up to two weeks to receive your materials or online classes. However, you can speed up that getting-started process by responding quickly to your advisor's requests, requesting official documents from your student's prior school when applicable, taking the assessments as soon as they are available, and approving or adjusting curriculum recommendations in a timely fashion.
What happens if a specific curriculum or course does not meet our needs?
If you receive a course that does not fit, simply contact your advisor within 14 days to request a curriculum change.
What are your refund policies?
Bridgeway Academy will refund tuition paid as follows:
Withdrawals prior to July 1 of New School Year or prior to start date: Tuition refund less 10% of total annual tuition and any applicable fees.
After July 1 of New School Year or within 14 days of start: Tuition refund less 20% of total annual tuition and any applicable fees.
All registration, service and/or shipping fees are non-refundable.
Families who withdraw more than 14 days after their program start date are NOT eligible for a refund, and any balance owed is due immediately.
Grade Level Kits (GLK) have a 14-day from receipt return period provided the materials are new and unused with no writing on any materials. A 20% restocking fee will apply. Any returned materials that are used/damaged will not be re-returned to the customer and are not eligible for refund.
Will I receive a refund after 14 days?
No tuition or record-keeping fees will be refunded after 14 days from the start date.
Can I withdraw from Bridgeway Academy?
If a customer wishes to cancel or withdraw their student from Bridgeway Academy, a formal withdrawal form must be obtained from the family's academic advisor and submitted within 10 days of receipt.
How do I exchange a course if I am an international student?
International families: When a course exchange is requested, Bridgeway Academy does not cover the cost of shipping course materials. Actual cost-to-ship will be charged, and payment must be made before course materials will be shipped.
What do I do if there is a customs fee on my package?
All customs fees charged by the destination country are the sole responsibility of the customer. All shipping fees are always non-refundable.
Do you offer payment plans?
Payment plans are available for most of our tuition programs. Payment options are shown during the purchase process. Finance charges will be charged for all payment plans; payment amounts are included in the installment amount. Curriculum-only options such as individual Live Online Classes, Grade Level Kits, and individual Discover! courses do not have payment plans.
Will I be reminded of my installment payments?
The finance office does not send tuition reminders or invoices for payment plans. Parents are responsible to have the funds available for processing on the scheduled date.
Are there any additional fees for payment plans?
Customers opting for payment plans will be charged finance fees per-payment, which are included in the payment amount. Customers need to authorize automatic payments.
How many years does my tuition cover?
Tuition fees are incurred every school year or grade level enrolled per student. A school year includes 10 full months of enrollment; extensions are available for an additional fee.
Are registration fees refundable?
Registration fees are non-refundable and must accompany all new and re-enrollment applications.
How often are registration fees due?
Registration fees for each student are due annually.
Are shipping fees refundable?
Shipping fees are not refundable.
Do you offer any special discounts?
We offer a missionary, military, pastoral, and multi-student discount on enrollments in any of our full-year Academy enrollments grades 1-12 (Pre-K, Kindergarten, and Homeschool Accreditation are excluded). To learn more about any of these discounts, contact our admissions team at 800.863.1474.
What video technology is used for Live Online Classes (LOC)?
We use the Zoom platform, a leader in video communications. It allows your student to be on camera and engage with the teacher and other students for a truly exciting class experience. Some countries may not be able to access our Live Online Classes (LOCs) due to either country or Internet Provider restrictions regarding Zoom. Please check the list below before enrolling in a LOC to ensure you have access to the platform. Please note that if you live in one of the following countries and opt for using a VPN, we will not be able to assist you or provide you support with technical issues. Restricted countries or regions: Belarus, Burundi, Central African Republic, Cuba, Democratic Republic of the Congo, Iran, Iraq, Lebanon, Libya, Mali, Oman, Nicaragua, North Korea, Somalia, Sudan and Darfur, South Sudan, Syria Sanctions, Ukraine (Crimea Region), United Arab Emirates (UAE), Venezuela, Yemen, and Zimbabwe. For more information, please contact or visit Zoom's website directly.
Are Live Online Classes available for all grade levels and content areas?
Yes, Live Online Classes are offered for grades 1-12 and include both core content classes and classes designed for enrichment and exploration.
How often do the Live Online Classes meet?
Live Online Classes meet just once per week in middle/high school and twice a week in the elementary program, making it easy to create a schedule that works. Classes are recorded, so if your student misses a session, they can easily access the content to catch up. Live Online Classes take place on a full-year, semester, or trimester basis.
How many students are enrolled in each Live Online Class?
Enrollment maximums vary by grade level but classes do fill up quickly, so be sure to reserve your spot early.
How many Live Online Classes can my student take?
Your student can take as many Live Online Classes as you allow. However, class schedules vary and can overlap so be sure to check the schedule before finalizing your purchase.
How many weeks does each Live Online Class run?
Trimester classes run for 10 weeks, semester classes run for 15 weeks, and full-year classes run for 30 weeks.
Can I enroll with Bridgeway Academy and take all Live Online Classes?
Yes, we offer a Homeschool Live program that allows middle and high school students to structure their school year with all Live Online Classes. It includes all of the benefits of our Homeschool Academy program and can include a full year of Live Online Classes or a mix of Textbook, Self-Paced Online, and Live Online classes.
Will my student have assignments to complete between each Live Online Class?
Yes, your student will have activities and other assignments throughout the week as a follow-up to what was covered in the previous week's Live Online Class or that prepare them for the upcoming class. Those students who are taking high school-level classes will have up to five more rigorous assignments and should expect to spend time independently working every day.
What are the equipment requirements for Live Online Classes?
Students will need a computer with a mic/webcam and an internet connection that supports streaming.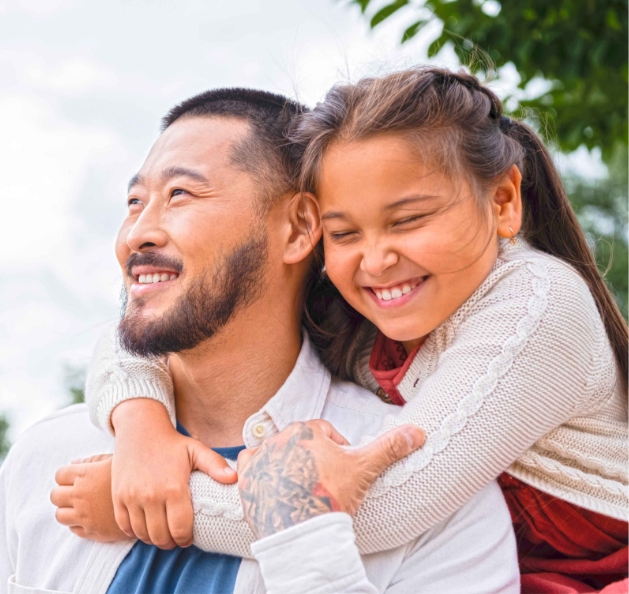 You may feel your choices around educating your child are limited and that high quality education is beyond reach.
At Bridgeway Academy, our promise to you is that your student is at the center of everything we do.
Experience truly personalized education like no other. Choose Bridgeway!
Enroll Now