Homeschooling Laws, Information, and Resources for Arizona
If you're living in Arizona and are looking into homeschooling, you're in the right place! This page provides the resources and information you need to determine whether homeschooling in The Grand Canyon State is right for you.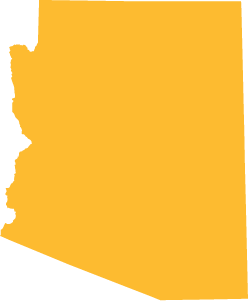 Summary of Arizona Homeschool Laws
Knowing the requirements for homeschooling in Arizona is one key to successful homeschooling. Below is a summary of the homeschool laws in the state of Arizona. You can find additional information on Home School Legal Defense Association's (HSLDA) website as well: Arizona HSLDA Reference
The Arizona Empowerment Scholarship school voucher allows families to use state funds to purchase educational services from homeschool providers.
Download our free guide to understanding the AZ ESA program here
Homeschooling Options in Arizona
There is really only one option for homeschooling in the state of Arizona. As the state requires very little homeschool regulation, all you need to do to educate your child at home is follow the steps below–beyond that, the sky's the limit!
Arizona State Law Homeschool Summary
As mentioned above, Arizona requires very little from homeschoolers, except for the following:
File an affidavit of intent with the state.
Provide a copy of the child's birth certificate.
Teach the required subjects of reading, grammar, math, science, and social studies.
Arizona State Education Resources
Here you'll find websites for any questions you may have about education in the state of Arizona.
Arizona Homeschooling Support Groups
Whether you already homeschool in Arizona or are looking to do so, these resources are quite useful if you're searching for support, co-ops, or answers to questions about homeschooling in your state.
Top Arizona Homeschooling Field Trip Ideas
One of the many benefits of homeschooling is the flexibility to explore! Here are some ideas for amazing–and educational–field trips around the great state of Arizona!
Arizona Museum of Natural History: Mesa, AZ
Arizona Mineral and Mining Museum: Phoenix, AZ
Arizona Museum for Youth: Mesa, AZ
Arizona Science Center: Phoenix, AZ
Arizona-Sonora Desert Museum: Tucson, AZ
The Bible Museum: Goodyear, AZ
Butterfly Wonderland: Scottsdale, AZ
Discovery Park Campus: Safford, AZ
Fort Apache Historical Park: Whiteriver, AZ
George Washington Carver Museum and Cultural Center: Phoenix, AZ
Grand Canyon National Park: near Fredonia, AZ
Halle Heart Children's Museum: Tempe, AZ
Heritage Square: Phoenix, AZ
International Wildlife Museum: Tucson, AZ
Kartchner Caverns State Park: Benson, AZ
Museum of Northern Arizona: Flagstaff, AZ
Phoenix Art Museum: Phoenix, AZ
Phoenix Zoo: Phoenix, AZ
Reid Park Zoo: Tucson, AZ
Saguaro National Park: Tucson, AZ
Science Down Town Tucson: Tucson, AZ
SRP Heritage History Center: Tempe, AZ
Tucson Children's Museum: Tucson, AZ
Wildlife World Zoo: Litchfield Park, AZ