10 Ways to Ease The Transition from Summer to Fall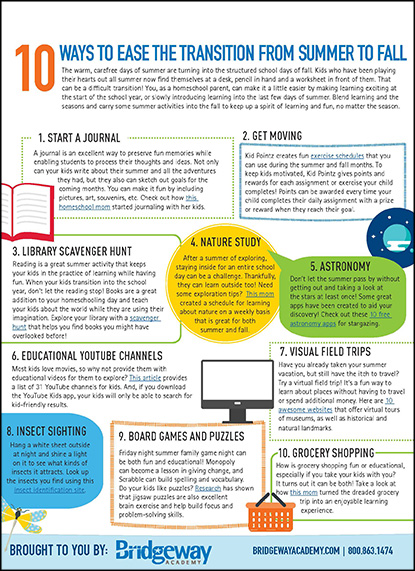 Summer days may be about to come to an end, but that doesn't mean the fun has to stop! Take a look at these 10 ways to still have fun with your students after summer is over.
10 Ways to Ease the Transition from Summer to Fall
The start of another school year tends to be a tough time of year for many kids…but it doesn't have to be. As a homeschooling parent, you have the unique ability to make the transition from summer fun to classroom time easier—and more fun! By subtly integrating learning into the last few days of summer or by making everyday activities a learning experience, your kids can glide seamlessly from summer vacation into the school year. And we've got some ideas to get you started!
Virtual Open House! Join us on Thursday, Sept. 3 at 2pm ET to learn the benefits of working with a homeschool academy.