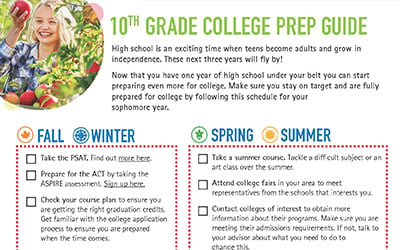 "When should I sign up for SAT's?" "When do I start looking at colleges?" We have outlined these tasks and many more in 4 colorful checklists, broken down by grade.
Getting Ready for College
High school is an exciting time…for both students and parents! But those four years go by in a flash, and there's a lot to accomplish during those high school years in order to be as prepared for college as you both can be. Between schoolwork, college entrance exams, scholarship possibilities, extracurricular activities, and college research, there are quite a few deadlines to meet and responsibilities to handle. It doesn't have to be an overwhelming experience, however.
College Prep Checklist
Our free downloadable resource, College Prep Checklists, is the perfect way for high school students and parents to stay on track and be organized, from freshman year through graduation. Broken down and customized by grade level, these checklists clearly lay out what needs to be done and when, so everyone can maintain focus on each step along the way. High school is most definitely a hectic four years, but our goal with this free resource is to minimize the stress so you can accomplish all your goals.