Crossing Over Into Homeschooling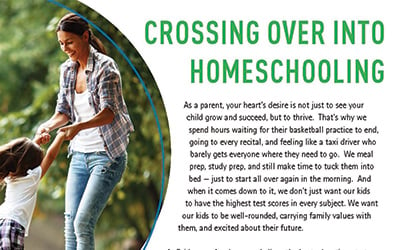 Download your FREE guide on "Crossing over into Homeschooling" to discover how you can start homeschooling today!
Fresh Starts Are Possible
If you're ready to start homeschooling now, or just curious about what your options are, we're here to help.
Let Bridgeway Guide You in Homeschooling
You're the most important person in your child's life, and we are here to help you be the best homeschool parent you can be. Take control of your child's education with an expert partner to guide you. With each individualized Bridgeway homeschool program your child will get:
All of the curriculum you need to complete your school year.
Grade reporting for all courses and an accredited transcript.
The one-on-one support of a dedicated homeschool expert.
Fun extras, extensions, and online activities with each course.
The peace of mind knowing you are working with an experienced, accredited program.
Learn more about our homeschool programs for your student.