Learning Tips for Your Hyperactive Child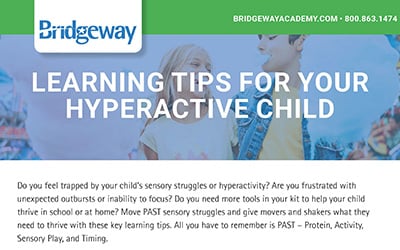 Do you feel trapped by your child's sensory struggles or hyperactivity? Are you frustrated with unexpected outbursts or inability to focus? Move past sensory struggles and give movers and shakers what they need to thrive with these key learning tips.
Helping Hyperactive Kids Get PAST Struggles
Managing a child with a hyperactivity order can be a challenge. As a parent, you've most likely experienced plenty of frustration when it comes to school or other activities that require dedicated focus and concentration. But you can get PAST that. Just remember the PAST method: Protein, Activity, Sensory Play, Timing. Following this system can help keep hyperactive kids more focused and alleviate some of the related stress you may be experiencing.
Learning Tips for Your Hyperactive Child
Our free downloadable resource, Learning Tips for Your Hyperactive Child, is full of helpful tips and tricks that can help improve your child's attentiveness. This resource focuses on the PAST method, which details why eating protein, partaking in physical activity, using sensory play, and learning the importance of timing and schedules can have your child thriving and focusing like never before.