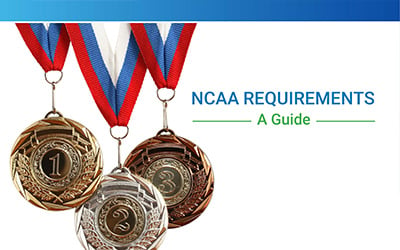 If you are looking to pursue sports in college, this resource is a great place to start as you navigate staying compliant with the guidelines set by the NCAA
Attention, Student-Athletes!
There's a lot to juggle–and consider–if you're heading into high school as a student-athlete. From schoolwork to practice to competition, you're going to have a lot on your plate. On top of all that are all the rules and regulations you need to follow to maintain NCAA (National Collegiate Athletic Association) eligibility if you're planning on attending a Division I or II school.
NCAA Requirements Guide
If it sounds like a lot to keep track of, it is. But Bridgeway Academy makes NCAA eligibility easy and manageable for you in a couple of ways. First, our Academic Advisors know NCAA rules inside and out, so they'll make sure you're following all guidelines, such as grade point average, SAT/ACT testing, and course requirements. Second is our helpful eBook, NCAA Requirements Guide. This free download is full of information to ensure you stay on the playing field:
NCAA overview
A high school/NCAA timeline
A checklist of NCAA requirements