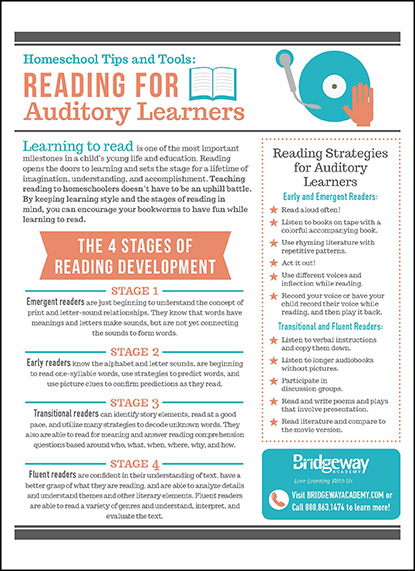 In this download you will learn about the four stages of reading development and tips on teaching your student to read based on their learning style.
The Four Stages of Reading
Did you know that there are four stages of reading development? There are emergent readers, early readers, transitional readers, and fluent readers. And each reading stage requires a certain type of instruction based on the way your child learns best. But do you know what type of learner your child is?
How to Teach Reading by Learning Type
Once you know what type of learner he or she is—kinesthetic, auditory, or visual—use this free resource to learn some helpful tips and tools for each specific learning type at each stage of reading development. Whether your child is an observer, a listener, or a mover, these tips and tools can make reading lessons even more effective and lots of fun!
Learn more about the reading development stages and learning styles here or by calling 800.863.1474.
Virtual Open House! Join us on Thursday, Sept. 3 at 2pm ET to learn the benefits of working with a homeschool academy.