Student Athlete Ultimate Travel Guide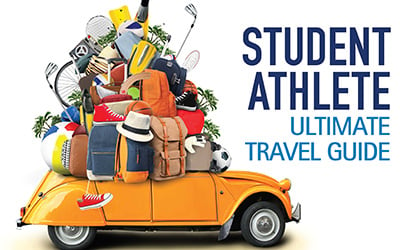 In our free download, Student Athlete Ultimate Travel Guide, we give students 4 strategies for traveling, along with a packing list and helpful tips and resources!
Balancing Education and Sports
Finding the right balance between competitive sports and high school is a challenge, especially if you're aiming for a college scholarship or major competitions. There's practice, meets and competitions, travel…where do you find the time for schoolwork? It's obviously important, but your schedule doesn't offer much down time. We have some ideas that can help.
An Excellent Education That Works for YOUR Schedule
Our downloadable resource, The Student-Athlete Ultimate Travel Guide, not only offers tons of helpful advice and tips, but it also highlights our NCAA-approved Homeschool Live program – perfect for high school student-athletes. With Homeschool Live, you get a full course load so you stay on target for graduation, but classes are pre-recorded so you can learn anywhere there's a Wi-Fi connection! On a plane, in a hotel, at the gym as you're waiting, Homeschool Live's teacher-instructed classes are there for you at your convenience. And so is Bridgeway's world-class advisor support and teacher interaction.