Thanksgiving is one of my favorite holidays. Just thinking about Thanksgiving makes my heart smile and my mouth water! And it's not just the turkey and my sister's sweet potato pie that I'm thinking about. Thanksgiving is a holiday rich in beautiful history, born out of the principles I want to teach my children, and filled with one of the most important and Godly emotions we can have—thankfulness. How can you NOT enjoy this amazing holiday, a time when we are challenged to love and give more? Rather than focusing on Black Friday shopping, why not engage in meaningful activities that celebrate the true meaning of the holiday and highlight the reasons we have to give thanks? Here are my Top 5 meaningful Thanksgiving traditions for homeschoolers that bring a smile to my face and fill our home with joy.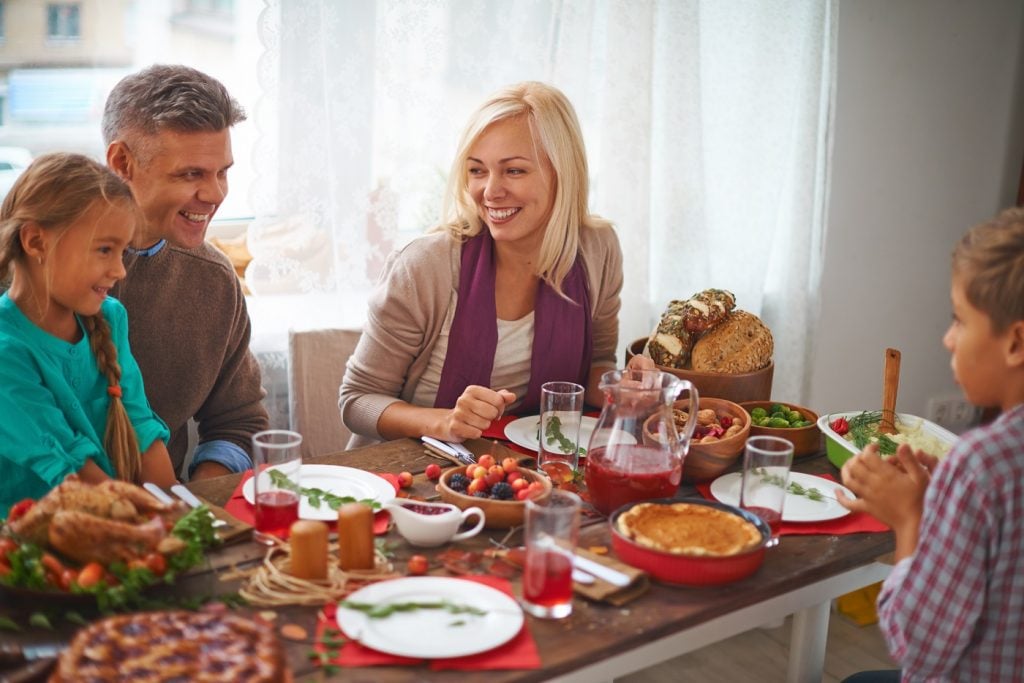 5 Meaningful Thanksgiving Traditions for Homeschoolers
Create a Thankfulness tree or jar. This is our absolute favorite tradition. Each year I create leaves out of cardstock of different colors and shapes. Each night every member of our home writes something that we are thankful for on a leaf and places it into a "thankfulness jar." In past years we have hung them on the mantle on a piece of twine. Here's the best part: we keep the leaves from year to year to see how God has richly blessed us!
Research and re-enact the history of Thanksgiving. Thanksgiving traditions should include a bit of history, especially for homeschoolers! The true history of this holiday is very interesting, and is perfect for homeschoolers to dive into! Watch this video and then recreate the first Thanksgiving feast. Scrap the turkey and serve venison with your potatoes. You can use this menu and try out a few dishes (using what you're learning in math, of course!).
Make Thanksgiving dinner baskets for those in need. Our church has a food pantry called Christ's Cupboard. Each year we gather items and create boxes of everything you would need to make a traditional American Thanksgiving meal. We typically include a turkey, rolls, potatoes, butter, green beans, corn, pie crusts, apples, sugar, and pumpkin pie filling. We include our children in the activity, from preparing the shopping list to packing the boxes. Shopping for the items is a great way to spend time together while teaching your children to follow a grocery list or recipe. Your children can even print out or write your favorite family recipes to include in the box.
Record your family recipes and share them with your family. When we hear the word "Thanksgiving," our mouths begin to water as we remember the family recipes we love and look forward to enjoying each year. But, all too often those recipes die with those loved ones who are no longer with us. This Thanksgiving, write down and share your family recipes, and include your children in writing them. Consider using an online program like Google Docs or Dropbox.com to hold your recipes so that they are always available and protected by the cloud. However, you choose to record the recipes that make Thanksgiving for your table, be sure to include your children in the process of making them! The more they participate, the more they will remember. That's how "Nana's Mac and Cheese" will live on for generations to come.
Write letters of thanks to special people in your life. Recently we lost a very close friend of ours to a sudden illness. He was young, vibrant, and very loved. We are beyond thankful for his life and wish we had the opportunity to tell him all that he meant to us! Thankfulness shouldn't be kept inside our hearts, but should be shared! Sit down as a family and write letters to those in your life for whom you are thankful. The letters will bless the heart of the reader, and you'll feel full knowing that you've expressed your thanks while you still have a chance.
Thanksgiving is a wonderful holiday made more meaningful because of our Thanksgiving traditions. Regardless of how you choose to celebrate this holiday, make it memorable by including your family and expressing your thankfulness to and for them. That his how we make Thanksgiving last long after the turkey is gone!
What are your favorite Thanksgiving traditions? Tell us in a comment below!