You know the scene; while you're fighting through long division with one child, your toddler empties the entire roll of toilet paper onto the bathroom floor, and your fifth grader is somehow playing Minecraft, again. Many of us are almost to the end of the marathon that is our school year and, as the winter snows have melted, so has our creativity and patience! I know how much of a struggle it can be at times to keep little movers and shakers occupied, especially during the holidays, long days indoors, or while you're on the go outside of the house.Enter the Busy Box. Just as the name implies, it's a box full of my child's favorite activities to keep them, well, busy!
These are immeasurably helpful when I'm trying to help one child with a particularly difficult lesson, and don't have the time or ability to spread my attention between two children, at distracting the toddler from other non-toy attractions, or when I just need a break!
Plus, I've found that Busy Boxes can serve as great teaching tools for students who are bored, have short attention spans, ADD or ADHD, as they appeal to their hands-on needs. Here are some ways busy boxes can help your kinesthetic learner and students in general, stay engaged and busy!
You'll start with a box, or bag, and fill it with stuff your child (not you!) will be interested in. Keep learning style, interests, and themes in mind to make your busy boxes as engaging and enriching as possible.
Self-Directed Learning
Rule #1) The busy box should be self-directed.
They should be able to do everything in the box themselves with minimal teacher intervention. And this is a good thing! By providing them with the opportunity to explore new ways of thinking through self-directed educational activities, children are more likely to approach and develop an understanding for topics that might be ignored in a traditional classroom. In fact, it was this same style of thinking that allowed Einstein to dream up the concept of General Relativity and our current view of the universe. So maybe uninterrupted, self-directed learning isn't so bad after all!
Rule #2) The busy box should be individualized and FUN!
The key is to engage your child. So, fill your busy box with items that your individual child will find appealing. And don't forget learning style and personality. This is where Mom's (or Dad's!) creativity and know-how comes into play. What motivates your child? What drives them? What are they most interested in and can't stop talking about? If your kiddo loves art and is a visual learner, focus on filling the box with artistic and visual activities like painting, Wikki Sticks, craft projects, etc. Put their interests and learning style at the center of the box and you'll get more mileage (in the form of time!) out of the activities.
On-The-Go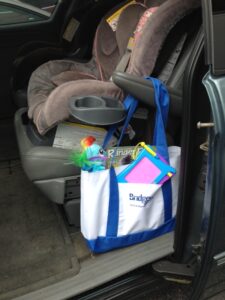 Rule #3) The busy Box should be portable.
This past week I took a trip with my family to Williamsburg. Long car rides and young children often feel more like torture than vacation. So, to prep for the trip, I made a few Busy Bags — my version of a Busy Box on-the-go — that we could bring with us. And, I themed them to reflect the culture and history of Williamsburg. In each bag my children had a journal, flashcards filled with Williamsburg history, art supplies, Colonial paper dolls, magna doodle, and other fun toys and tid-bits that would entertain them for the 5 hour car ride to Virginia.
These bags also gave my children the opportunity to become acquainted with the ideas, stories, and history we expected to experience during our trip. I found that by giving my kiddos the chance to imagine what life was like in Colonial America during our car ride, they were more engaged and excited when we finally arrived in Colonial Williamsburg. And as we toured the site, their prior knowledge deepened the experience.
Summer Time
Don't think that Busy Boxes are solely for indoor time or car trips, because they're also perfect for the great outdoors. Think of them like a picnic for your child's mind! You could make color-coded flash cards to be used outside, incorporate a magnifying glass for exploring, bubbles for fun, and so much more.
Rule #4) Busy Boxes should be seasonal in nature.
Organic learning happens best when children can explore and make immediate connections with what they experience. So, reserve spring activities for spring boxes and winter for winter boxes. Summer will be here before you know it and Busy Boxes are great for battling the dreaded summer brain drain. Studies show that students lose an average of 2.6 months of grade level equivalency in mathematical computation skills during the summer break.
To keep your children's minds churning during summer vacation, consider filling their Busy Boxes with activities and tools that will help them review what they've learned during the year. Just make sure they don't seem like homework, and the activities are fun while promoting learning!
Rule #5) Busy Boxes should be used at different times.
Busy boxes shouldn't just be used for teaching homeschooling lessons. They should be used during free time and unstructured teaching to help break the mold of "structured teaching styles." If every time you break out a busy box it's to go over a hard math lesson, chances are your child will begin to associate the boxes with tedious work.
Avoid the boredom or toilet paper play time pitfall by creating a Busy Box. Keep your Busy Box fun and engaging and I guarantee it will become a lifesaver for both you and your child. And if you think you have a great idea for a Busy Box/Bag, please share it in a comment below!