Homeschooler Simon Gomez Ortiz Carried Colombia's Flag in International Sailing Competition
You see them in the Opening and Closing ceremonies of all Olympic Games: the flag-bearers.Each country chooses one athlete to carry their nation's flag during ceremonies to kick off and close the prestigious international competition.
In November, Bridgeway Academy student Simon Gomez Ortiz was selected to carry the Colombian national flag for the III Bolivarian Beach Games 2016 in Iquique, Chile, the prestigious international beach-and-water sports championships for countries from Central and South America.
Simon, just 15, is an experienced sailor in the Optimist class. He skippers a sailing dinghy less than 8-feet long that is set up for one person on a single sail with no jib. The Optimist class ends at age 15, so Simon, a two-time gold medal winner at previous Bolivarian Games, was a great choice as flag-bearer even though there were other competitors in more senior sailing categories and other sports.
"It was very exciting for me," Simon said of carrying the Colombian flag. "It's a very important honor that they chose me. I am the lower age kid, and this was an important role for these Games."
During a ceremony at the Colombian Olympic Committee (COC) headquarters to make the announcement, Simon met COC president Baltazar Medina as well as Paulo Cesar Villar, the head of Mission at the Games, and Milena Orozco, director of Positioning and Sports Leadership Coldeportes.
Simon is no stranger to international competition. He has competed on three continents: North America, South America, and Europe, as well as in the Caribbean islands. The homeschooler hopes to attend college in the U.S. near a sailing center along the Atlantic Coast like in Boston, the Washington, D.C. area, or Florida.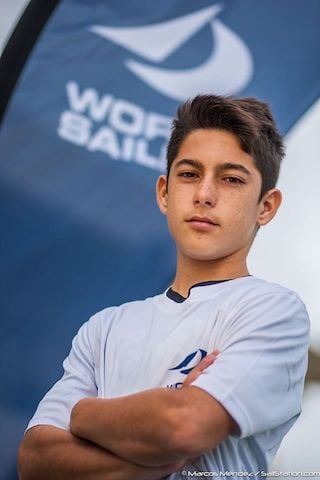 Simon earned a third-place finish in his final run in the Optimist class at the Bolivarian Games. His final race in the Optimist class will be his sixth straight appearance in the Orange Bowl International Youth Regatta Dec. 26-30 in Coral Reef Yacht Club, Coconut Grove, Fla., a competition that leads up to the Capital One Orange Bowl NCAA football game between Michigan and Florida State on Dec. 30 at the Orange Bowl in Miami.
Simon's next step up from Optimist is either the single-handed Laser category, or the two-person Pixels, or Club 420s.
He's already giving back to his sport, and his country. As a homeschooler, Simon can do more for his community by utilizing good time management.
Simon runs Optimist sailing classes for youngsters ages 8-15 three times a week using donated and borrowed dinghies and equipment to outfit the young sailors in a proper manner. They practice on the lake at Hotel & Club Náutico Acuarela, the club where his parents, Ariel and Monica, both work.
"I teach the kids of the region who are without many economic resources," Simon said of his personal outreach effort. "They can't pay for a trainer or for a boat, so we lend them everything necessary to sail. I teach them classes on fitness, tactical and technical."
Simon said physical conditioning is very important in sailing because it adds to your technical ability to handle the boat and make it go fast. The technical part is the ability to look at the wind and weather and decide how best to run the course.
"It's very exciting," he said. "It's you, your boat, the water, and the wind. It's like nature and you. You are magic. Some people say we sailors can see the wind, and that's a reward. I like that."
Another reward is being able to homeschool through Bridgeway Academy. Simon has mentioned it several times in Colombian newspaper articles about his achievements.
"I wanted to homeschool so that we would have more time to train," he said, acknowledging his younger brother Antonio, who is also a Bridgeway student. "My mom checked on Bridgeway on the Internet and then got in touch with them. They were nice."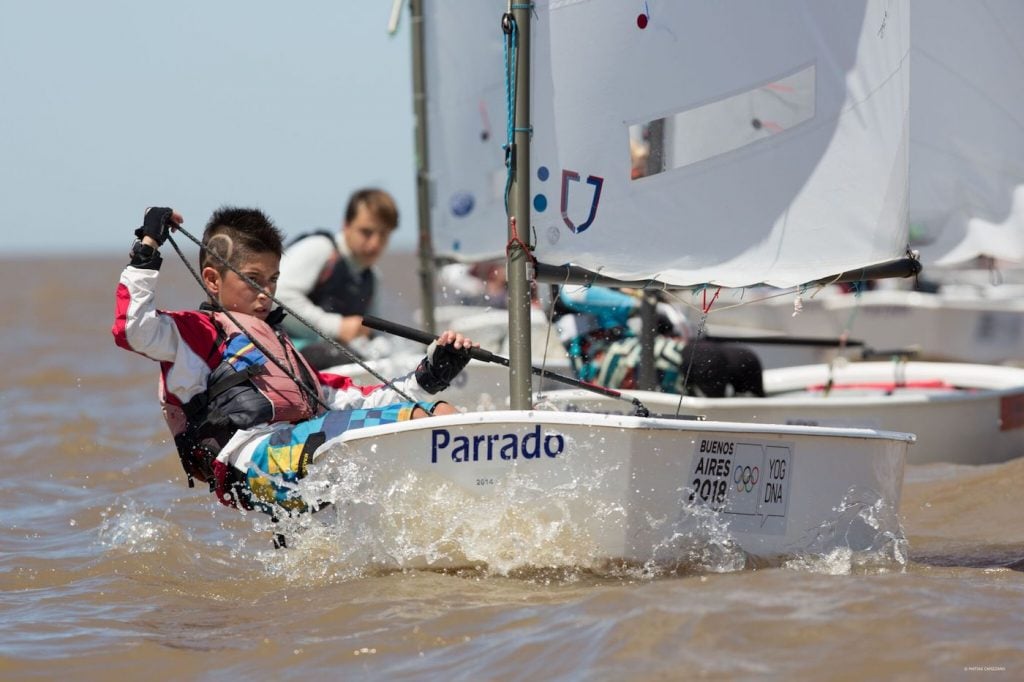 Before homeschooling, finding time to train for sailing was an issue. Now Simon and Antonio can adjust their academic schedule around their training and other activities.
With Simon acting as her interpreter, Monica said that it was a difficult choice to homeschool because homeschooling in Colombia is unusual. It is paying off by allowing Simon to compete in international competitions while not falling behind in schoolwork. Serving as his country's bannerman at a prestigious international competition was a bonus and an honor for the homeschooler.
"I like it very much," Simon said of homeschooling with Bridgeway. "It's effective. I was scared at first because I didn't know if it would be too difficult or too easy and I would not learn much. But it is fine!"
Everyone at Bridgeway Academy is extremely proud of Simon and his accomplishments. And, we all wish you the best in your future.
Bridgeway Academy can help you and your student-athlete reach for their dreams, just like we did with Simon.
If you're the parent of an athlete who needs a flexible academic schedule in order to pursue athletic dreams while still remaining NCAA eligible, or you just want to find the best academic program that's flexible enough for your student-athlete, please give us a call at 800-863-1474 to talk to one of our helpful academic advisors. To view all the details of the Elite Program, click here.