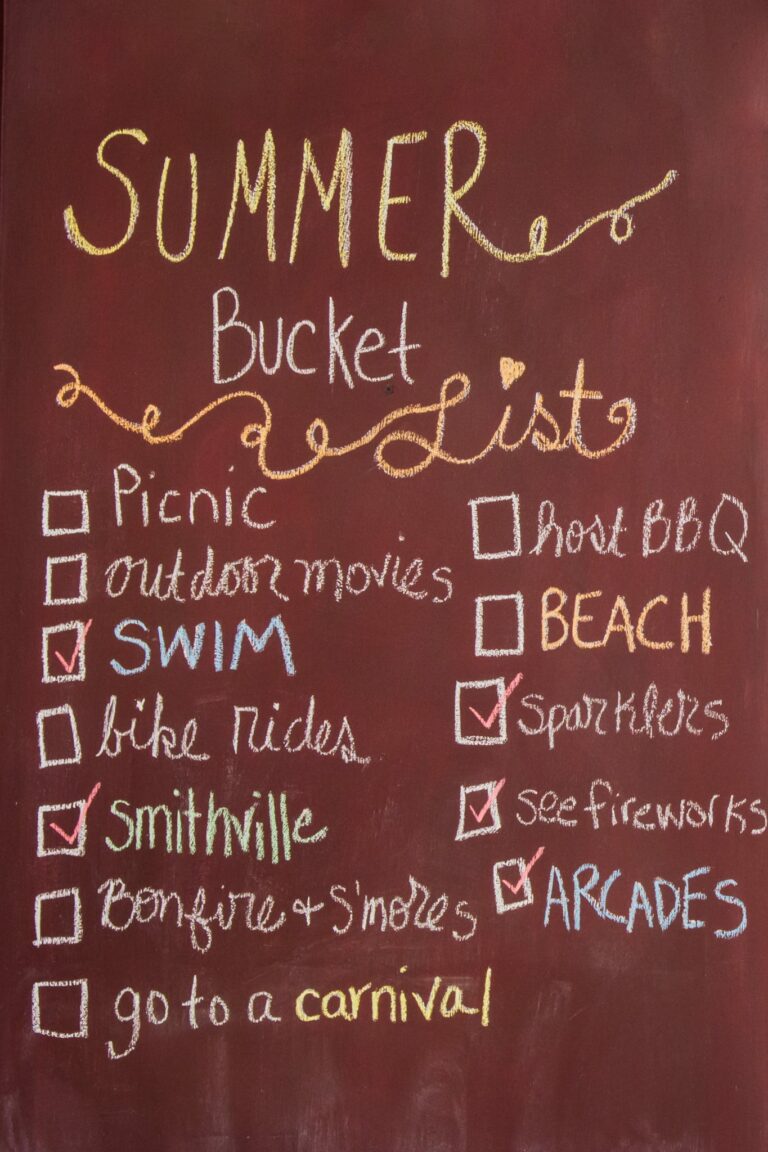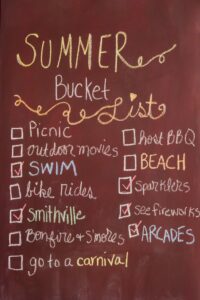 It's May, which means summer is on its way. If your family takes a break from homeschooling during the summer months, it's the perfect time to start planning and crafting your summer bucket list. After all, you want to be sure your must do's on your family list before it's too late. How about starting with these 20 great summer bucket list items. They will keep you in a 'state of fun' to make the most of your summertime schedule. It's time to make memories and seize the day!
Your Summer Bucket List for Kids and Teens
Make glow in the dark chalk. Nothing says summer like sidewalk art. Kids of all ages love making this sidewalk chalk and enjoying it both day and night!
Earn some much-needed cash to fund your summer vacation by holding a car wash. Take it up a notch from the lemonade stand (or do both!), gather your friends, and offer to wash cars at a local business, store or your church.
Get your competition on in a family derby car race. Make these fun toilet paper cars then race them down your driveway to see who takes the checkered flag.
Go stargazing on a clear night to see how many stars and constellations you can name. Increase the fun factor by pointing out some made-up constellations you see and give that special start you see a new name! Make a star map or even create a card game to help you learn about the heavens.
Enjoy a ripe, juicy watermelon on a hot day. Then have a seed spitting contest to see who can spit seeds the farthest. Stand back this one could get messy!
Did you know that fireflies use their light to communicate? Learn all about the lightening bug as a family then complete your evening by catching fireflies together in a jar and watch them chat away.
Go berry picking at a local farm then try your hand at making a berry pie, cobbler, or jam. Here are 100 different ideas to enjoy the fruits of your labor, just to get you started.
Install a mile tracker on your bikes before you get riding. See how many miles you can rack up this summer. Set a goal of biking 25, 50, or even 100 miles a week. Then reward yourself or family with a trip to your favorite ice cream spot.
Make these fun marshmallow shooters then get out in the backyard to find out how far your sweet treats travel.
Jump in the puddles on a rainy day (even if you're a teen!) soaking up the fun. Then go on inside to enjoy a family movie with summer's sweet treat, homemade popsicles!
Go hiking at a local state park you've never visited. Be sure to take your nature journal along with you! Pack along some fuel for your adventures with these favorite family picnic foods.
Get set up with your first job. Chores in home for the little ones and if they are old enough why not have them start a business out of your home? Think library rental, lawn mowing, cleaning services, bake sale, etc.
Learn how to jump rope with the master, Peter Nestler. Hold jump rope contests in your neighborhood or put on a show!
Volunteer at a local community event. Getting involved in your own 'backyard' builds strong bonds throughout your neighborhood.
Hold "story hour" for your younger siblings, the kids in your neighborhood, or at a local community center. Or build a bonfire and do ghost stories around the fire at night.
Make these beautiful, natural ice boats for sailing at a local pond or lake.
Play hide and seek or manhunt in the neighborhood. Be safe!
Go camping and perfect your fire starting skills. Be sure to take along this perfect camping kit with the addition of a flashlight and pocket knife. Most items are available at the Dollar Store.
Learn a new, useful life skill like how to properly wash and fold laundry, change a tire, balance a bank account, or cook a meal for your family.
Fly a kite! First, find out all about how kites fly, then make one of your own.
To make the most of your summer and not get bored with all of the extra free time you have each day, plan for what you want to accomplish and how to spend it. Creating a summer bucket list will do just that, helping you explore and try new things during the summer months. And, with these creative ideas, you're sure to have the best summer yet.
Be sure to share your stories with us on our Bridgeway Academy Community Facebook page!