NEWS RELEASE:
Live Online Learning Labs expand its offerings to help parents better engage and immerse students in online courses.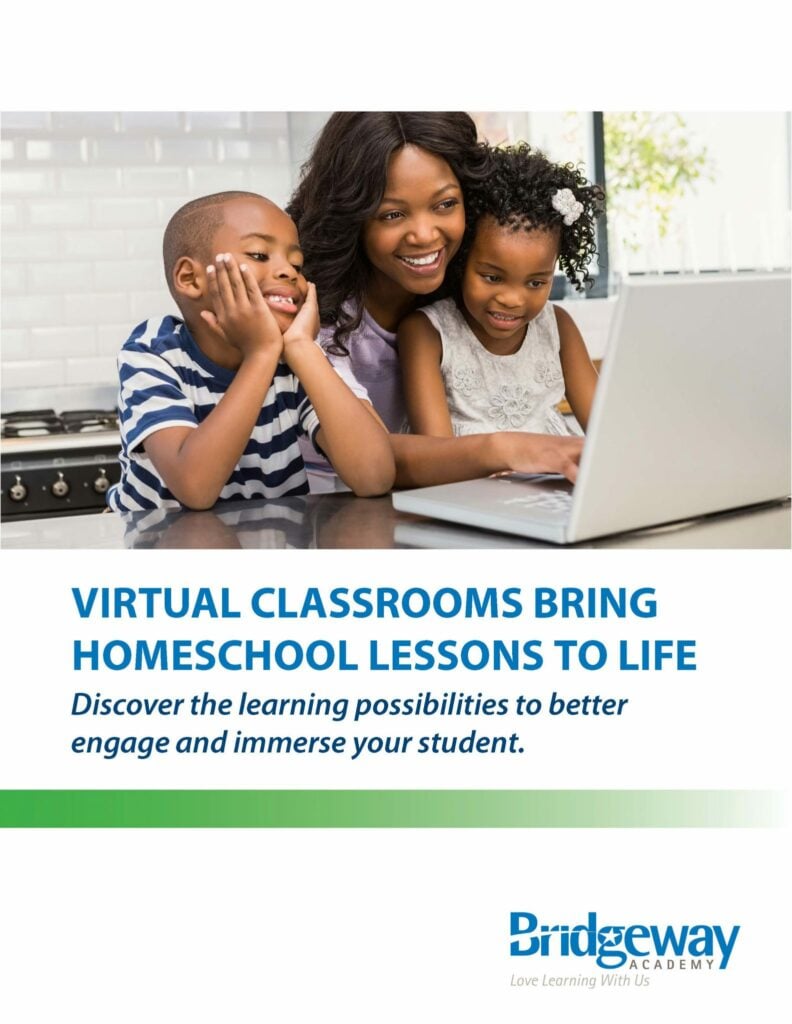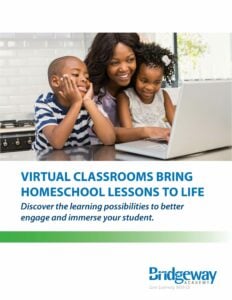 CATASAUQUA, PA —March 23, 2017—
Today, Bridgeway Academy, a premiere national homeschooling academy announced that parents can now access full-year versions of their popular Live Online Learning Labs. Designed to educate, engage, and excite children at every grade level, Live Online Learning Labs tend to fill up quickly, making the full-year option a much-needed addition to Bridgeway's virtual classroom repertoire.
Over 56 million students currently work and learn in virtual classrooms. Through this personalized digital experience, students have access to live teachers and interaction with peers, which fuels critical thinking, healthy debate, and greater engagement with course content through collaboration.
The new Live Online Learning Labs from Bridgeway Academy work in an innovative way to instill a love of learning by catering to each child's specific learning style and providing self-pacing study options so students can learn on their own timeline. The academy offers Live Online Learning Labs for students in grades 1-12 in a variety of content areas, enhancing the entire homeschool experience.
"Our children today live in a digital world where incredible software applications rest in their hands," says Jessica Parnell, President of Bridgeway Homeschool Academy. "The opportunity to use computer technology for their learning is a natural fit for these tech savvy students. Through expert teaching, students develop independence and learn to apply learning to real world scenarios, while parents enjoy the flexibility and peace of mind that online learning brings.
Long-term benefits of the Live Online Learning Labs from Bridgeway Academy include:
Independent Learning: Students experience increasing accountability with each grade level.
Real World Skills: Students collaborate and create in both virtual and authentic settings, providing real life applications to learning.
Preparation for the Future: Students are given the tools to best position them for success in their future collegiate studies and career.
Peace of Mind: Parents receive feedback about the development of their child's independence and accountability from a teacher.
Free Time: Student engagement time frees up parental time. In other words, parents get to enjoy a well-earned break.
Bridgeway Academy offers over 50 academic virtual classroom courses for students and allows scheduling options that fit each family's needs: trimester, semester, and now full-year.
For more information on Bridgeway Academy's Live Online Learning Labs, read the whitepaper at https://dev0to5.homeschoolacademy.com/wp-content/uploads/edovate/LL-White-Paper.pdf
More information can be found at the academy's website: https://dev0to5.homeschoolacademy.com/home-school-programs/
About Bridgeway Academy:
Since 1989, Bridgeway Homeschool Academy (http://www.bridgewayacademy.com) has been meeting the market demand for freedom in education. Through a holistic approach to homeschooling that includes placement and learning style assessments, customized curriculum, parental support, college preparation and more, Bridgeway's homeschool programs exceed state and national accreditation standards. Since their inception, over 25,000 students have achieved academic success through custom designed learning plans based on each child's unique strengths, goals, interests and learning style. Boasting a rate of 85% of students accepted to their 1st choice college post-graduation, Bridgeway is a proven, highly customized alternative to traditional public and private education.
Bridgeway Academy: Love Learning with Us.
Media Contact:
Katie Kennedy
610-228-2128
[email protected]
###