Full-Year Homeschool Kits


Your Perfect Homeschool Curriculum in One Easy-to-Use Package
Each kit for Grades 1-5 is designed to challenge and engage students in the way they need to learn. Your child will explore the best homeschool curriculum, games, projects, and more, that perfectly fit their learning style and grade level. Need customization in your kit? No problem! We make it easy to customize by subject, grade level and/or publisher. Click on PreK-Kindergarten, Elementary, Middle School, or High School to view each level's full-year homeschool kits. Once on that page, click the View & Buy Kits button to see the customization options.

Day-to-Day Instructor Guides Make Your Job Easy
We make it easy to teach your child. You will know exactly what to do every day. Just pick up your guide and go! The guides also include hundreds of ideas for mixing up your day and appealing to your child's learning style. And we don't stop there! Enjoy complementary online lessons where your child can explore new places, practice essential skills, or just explore learning further.
Top Benefits of Bridgeway's Grade Level Kits
How do you learn? Experience our different learning styles.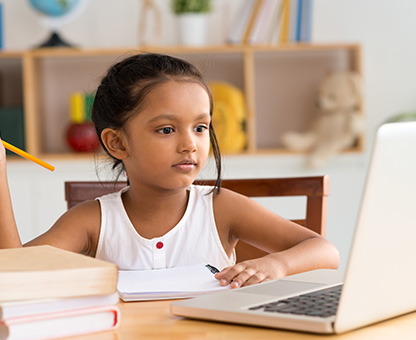 Visual Learner
Visual learners are insightful and sensitive to the needs of others.
Learn More
Visual Learner
Most visual learners are global learners. This means that although they understand the solution, they likely struggle or get frustrated with the steps necessary to get there. They also tend to rely on the right hemisphere — the problem-solving part of the brain — and are charged and ready to go when the material is new and interesting, challenging or funny. They will have little motivation when things seem irrelevant or overly-simplistic.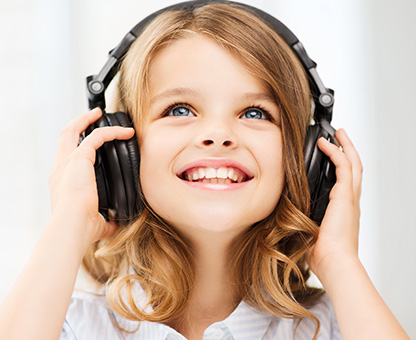 Auditory Learning
Auditory learners are expressive and able to communicate well with others.
Learn More
Auditory Learning
Auditory learners tend to retain information more thoroughly when the information is reinforced through sound. They learn best through lectures, discussions, and listening to themselves process information. They tend to be left-hemispheric dominant and are, therefore, verbal, sequential, analytic, and time-oriented. They will have little motivation when new information begins with complex or abstract ideas.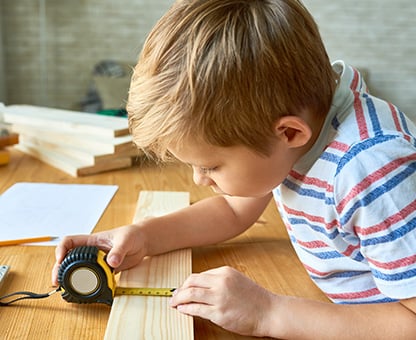 Kinesthetic Learner
Kinesthetic learners are sensitive and very aware of feelings.
Learn More
Kinesthetic Learner
Kinesthetic learners are movers and shakers. Kinesthetic learners need their bodies to be in action in order to learn and master skills. Provide opportunities for them to touch, sort, build, take things apart, or simply move while learning. They connect well with learning that involves the emotions, imitation, role-playing, and field trips. They will have little motivation when they cannot see how learning connects to life.
Learn more about the importance of teaching to learning styles, and discover your child's learning style here.
Grade Level Kit FAQs
Yes, our Grade Level Kits can be customized by grade level, subject, and publisher.
Yes! Simply purchase our Records and Support Package as an add-on and it will provide all of the accreditation, record-keeping, and support that you need for your Grade Level Kit.
Games, lab kits, books, and more!
Yes, you will receive a digital instructor's guide that you can download and print which includes pacing and extra learning activities for each subject. All located for you in your Parent Portal!
Please review the technical requirements.