I can't believe it's already the end of August – time flies! And you know what that means: school is starting soon! To ensure you're well-prepared and have all of the necessary materials for the upcoming school year, I've made a long, thought-out list of back-to-school supplies. Today, I'm going to share some of my favorite must-have back-to-school supplies for the new academic year – hopefully, you can take inspiration and ideas from here when creating your own list!
Writing Instruments
• No. 2 pencils These are a necessity! Sometimes, I like to use mechanical pencils, while other times I would rather use regular wooden pencils. It's all about personal preference!
• Pencil sharpener Of course, if you are using wooden pencils, they will end up getting dull after a while – thus, a sharpener is always good to have on hand! I prefer using small handheld sharpeners, but if you tend to grab wooden pencils more than anything else, I would definitely recommend investing in a sturdy electric sharpener!
• Erasers Extra erasers are always great to have just in case you end up using up the ones on the end of your pencils.
• Pens Especially for students in middle and high school, pens are very handy writing materials. Whenever I'm writing notes, I find myself reaching for pens that have smooth-flowing ink. I would recommend purchasing the three basic colors: red, black, and blue.
• Markers and crayons If you have or are a younger child who completes a lot of art crafts, markers and crayons are great tools to use for drawing and coloring. As a senior in high school, I also tend to use markers and colored pencils a lot when I'm working on school projects!
• Highlighters These are also a must-have. Highlighters will be your best friends when it comes to studying – trust me. I specifically like purchasing multi-colored packs so I can color-code my notes while writing and reviewing them.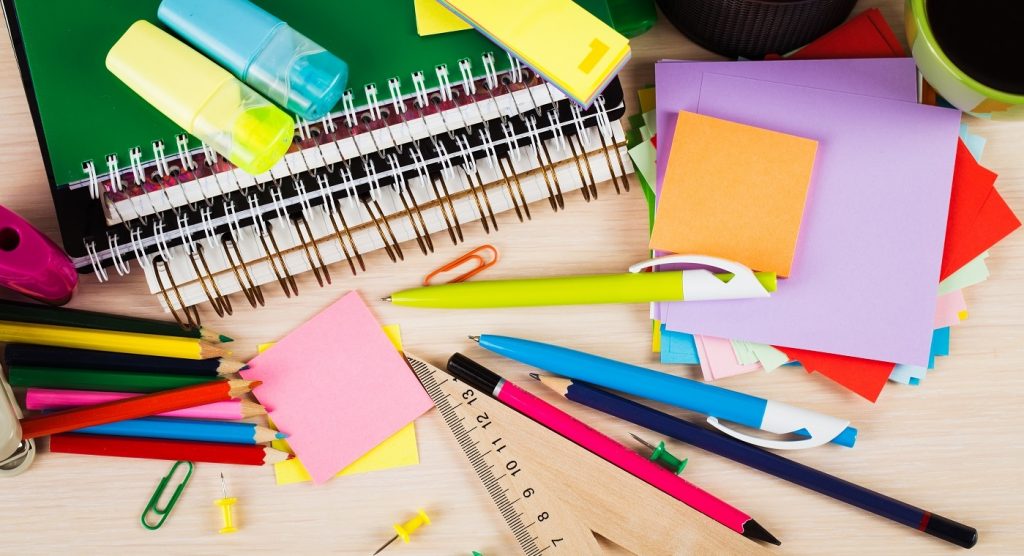 Office Supplies
• Wite-Out If you're like me and frequently write your notes in pen, you're bound to make a mistake or two (it happens to all of us). So, having a container of Wite-Out, or a Wite-Out tape dispenser, will definitely come in handy.
• Glue Glue sticks and bottles are very useful for projects.
• Tape A tape dispenser is always a good thing to have on your desk for those moments when you find yourself needing to use it.
• Scissors If your child is younger, then safety scissors (with the rounded ends) should be used with guidance by a parent.
• 3-hole punch I frequently print out assignment rubrics and class notes, so having a 3-hole punch definitely comes in handy when I want to place them in my binders.
• Reinforcements If you are using a binder, the pages can sometimes fall out. These are always great to keep on hand for when you notice the paper getting torn.
• Paper clips Once again, if you're someone who prints out your school notes, using paper clips can help you stay organized and keep everything together.
• Stapler I currently have a mini-stapler on my desk because I find myself using it so much! And of course, you'll need the appropriate type and size of staples for your stapler.
• Clipboards A clipboard is always a great thing to have when you want to "escape" the study space and do your work somewhere else!
• Whiteboard I personally like to mark important dates on a whiteboard calendar since I'm a visual learner, and also because it's not a waste of paper. If you do the same, then a dry erase board will definitely be helpful to you throughout the year.
• Dry erase markers If you decide to get a whiteboard, you should also purchase a set of dry erase markers.
• Calculator and ruler Whether you're instructed by your teacher to have one that is high-tech or one that is more simple, a calculator is always good to have – especially for math class! Additionally, a ruler is a necessity when trying to make straight lines or measure something.
• Sticky notes I'm someone who likes to write down my tasks and important notes and to-do's, so sticky notes are always on my desk! They're also useful as bookmarks and page flags.
• Index cards "Repetition is the key to remembering." You may have heard people, whether parents or teachers, say this to you one time or another. That's because it's proven to be true through numerous studies. If this is something that doesn't help you, that's okay – we're all different. Personally, since I am a visual learner, writing things down over and over again actually does help me remember them. Thus, index cards are a great way to study and quiz yourself on key terms and vocab!
• Globe or map This may be geared more towards younger students, but having a globe or a map is great for homeschooled children who are learning about history and geography — they can refer back to them during certain class lessons, as well as learn the importance of being an active, hands-on learner.
• Dictionary This is definitely optional since there are many dictionary websites online. However, sometimes it's nice to leaf through an actual book.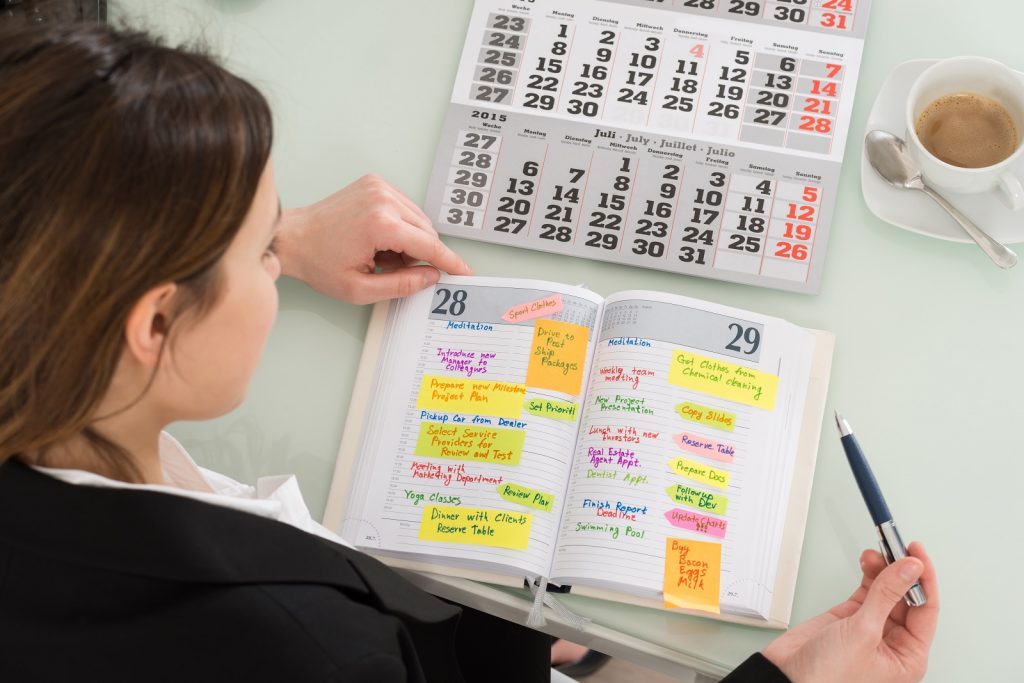 Class and Subject Supplies
• Binders, folders, and notebooks Although I do most of my school work online, there are a few classes that I prefer to take handwritten notes for. Therefore, I usually like to dedicate a binder or folder and a notebook to each of those courses. I often color code my class materials as well, so my folder or binder and notebook are the same color. For notebooks, specifically, I use college-ruled and graphing paper. When I'm not printing that much work for each class, I use one thick binder that I can fit all of my classes into by separating the sections with dividers (It's also a good idea to buy lined and printer or copy paper if you are someone who takes notes in binders or prints a lot.).
• Label stickers If you decide to use binders, folders, or notebooks, it may be extremely helpful for you to label each – so writing each class name on a label and then sticking it to your supplies will be to your advantage throughout the year!
• Agenda/Planner: I've talked about this before in a previous blog-post, and that is because I swear by it!! I dedicate a planner to multiple different aspects of my life (appointments & school) because writing important tasks and assignments down helps me remember them and plan/schedule each day with ease.
• File Cabinet: I strongly suggest purchasing a file cabinet, or file container, especially if you're a homeschooler like myself – I find that it's the easiest way to store and save important documents. Dedicating individual sections to progress reports, community service forms, physical education forms, and more will definitely help you stay organized, as everything will be in its own place.
Okay, I know this list may seem a bit overwhelming, but if you take the time to go through each item above and figure out what you think you'll need or won't need, you'll be ahead of the game for sure! Of course, some of these items you may already have and re-use each year, so this is just a list of supplies to take into consideration and help those who need it.