The story of the Klocks' homeschooling journey is a very familiar one to those who have switched or contemplated switching to homeschool as an alternative to their local public and private schools. It's essentially a microcosm of 2020 and 2021 as a whole–COVID, remote and hybrid learning, and the realization that actual homeschooling could be a better alternative.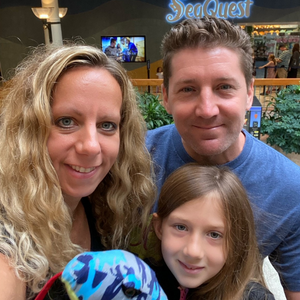 Prior to enrolling with Bridgeway Academy for her second-grade year, Sam had been attending the local public elementary school in their New Jersey town. She was in kindergarten until COVID hit in March of 2020; then, like every other student, Sam spent the rest of the school year at home. For first grade, Sam began the year entirely remote with her public school, followed by hybrid in-person/remote learning. That was enough for Sam's mom, Alexandra (Alex).
"Our reasons for unenrolling Sam from public school were three-fold," Alex explains. "The first reason was driven by the strict mask mandates in the state of New Jersey. Despite Sam's medical exemption, we had a difficult time enrolling her in school this past year.
"The second reason was the current climate in school. When Sam attended her old school in hybrid mode from January through June 2021, the COVID-imposed restrictions took the fun out of her learning experience. Additionally, the uncertainty of school closure due to an outbreak and the constant back and forth between in-person and remote learning, I felt would be very disruptive."
The last reason for Sam's switch to homeschooling? Hands-on learning together was fun–for both mom and daughter. "Being able to participate in her learning–following along, helping her on the spot while being fully engaged in the topics at hand, being able to see her learning progress–is what brought me joy."
The Search for the Right Homeschool
There are a lot of options out there. Just Google "homeschool" and you'll instantly be staring at hundreds of choices, many of which appear to be identical. Alex and her family experienced the same overwhelmed feeling this past summer when searching for the perfect fit. "Finding an online school that offered everything we were looking for took all summer," said Alex. We attended many open houses and did a lot of online research."
So, what exactly were the Klocks looking for in a school for Sam? "An online school that provides a rigorous curriculum, which allows the student (and parent) to follow a well-planned-out school year, but also incorporates textbooks for hands-on learning as well as live interaction with a designated teacher and peers." All of which led them to…
"Bridgeway is the absolute best fit for our family," she said. "While many schools offer some flavor or version of these features, I found Bridgeway's format to be all-inclusive and the one program that offers all of those things I was hoping for."
Alex enrolled Sam in our Total Care Live Blended program, which combines live, teacher-led learning with textbooks and hands-on exploration–literally the best-of-the-best in homeschooling programs for kids in grades 2 through 5. The Klocks felt this would be the right fit for Sam, and it sure looks as though they were correct.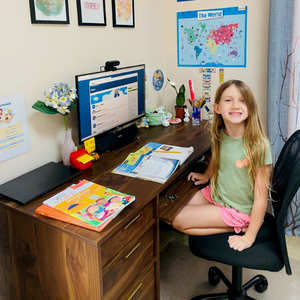 "I fell in love with the [Total Care] live blended program right away. It seemed like the answer to everything I had pictured," Alex explained. "I certainly did not want Sam to be glued to her PC for six hours as she was during virtual learning; however, seeing the kids would have two classes per day covering the core subjects with their teacher felt like the right balance. Plus, having access to an online learning platform for studies, assignments, homework, and additional learning resources, as well as the textbooks to go along with each subject, made the homeschool curriculum seem like a perfect package."
The Transition to Homeschooling
It's no secret that the transition from traditional schooling to homeschooling can be stressful and difficult–for both students and parents. That's why it's important for parents (not just students) to feel comfortable and find a program that fits their needs and schedules. In the Klocks' case, and like so many others who have transitioned to homeschool since 2020 especially, Sam's program needed to accommodate work schedules.
"Being a full-time work-from-home mom, and with my husband working outside the home, it was key for me to find a school that provided Sam with live classes and real-time teacher support, a community of friends she can interact with daily, tests to be graded and evaluated by the teacher, and the flexibility for home instruction to happen when it was convenient for me," said Alex. "Sam loves to learn on paper as well. She has always enjoyed writing and working in workbooks, so it was important for me to find a school that not only offered an online learning center with content, but also provided the textbooks for her to use in each subject. After attending the open house and Q&A sessions with Bridgeway, our decision was clear…Bridgeway was our fit."
One challenge checked off the list. And quickly followed by others–pulling Sam out of her public school, figuring out how to homeschool, and hoping it was the right decision. Being employed full-time, Alex worried that she'd be able to "make it work" and feared that she may not have the time to both work and support Alex during her school day.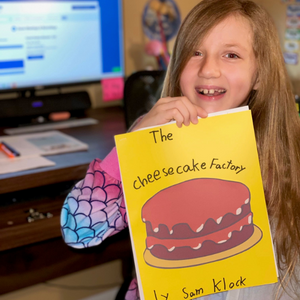 "The transition and decision to remove Sam from public school were mostly emotional on my part, because in my mind homeschooling has always been something I thought was reserved for families with at least one parent being a full-time stay-at-home parent," admitted Alex.
"Removing Sam from public school left me worried that I might not be able to support her in the way she would need throughout the day."
Alex ticked off a handful of questions that working parents undoubtedly ask themselves and each other when determining whether homeschooling is right for their families.
Can I make enough time to properly sit with her to work through the curriculum and assignments and provide her with the support she needs to thrive?
How much time would it require?
Can we work at our own pace?
Could she study on her own schedule that does not interfere with my work?
Can I do both successfully–give her a good homeschool experience while keeping up with the demands of my work?
Fortunately, the combination of COVID keeping many people home for work and the flexibility of Bridgeway's Total Care Live Blended program eased the Klocks' fears. "Shortly after starting our school year, it was clear–our decision was the right one. It is possible after all!"
And Sam is certainly happy that her parents made the switch. When asked why she enjoys homeschooling more than her old school, Sam replied, "I like being at home. I like not rushing to school. I like having such a nice teacher like Mrs. Cyphert. I like that Mommy has a yummy lunch ready every day and helps me a lot."
She wasn't done.
"I think homeschool is so much better, because I can learn without being rushed and I have more time to read my books, and Mommy can help, and we have cool workbooks."
It's hard to argue with those reasons!
Sam's Homeschool Success
Also calming the family's nerves was the fact that, after just a couple of weeks into her classes with Bridgeway, Sam started to become a whole new person. Always a very shy girl, Sam has begun to open up in her live classes, participating in discussions and raising her hand when she knows the answer to a question.
"She loves her live classes so much," Alex said. "Seeing her be a part of the class and participating makes us incredibly happy. During a Friday meet-up, the kids were sharing jokes. Seeing her across the room at her PC giggling and laughing and telling her own jokes melted my heart. It was yet another moment that reassured me we are in the best of hands."
Two of those hands belong to Mrs. Cyphert, Sam's teacher in her live classes. Alex has seen first-hand how well-structured the live classes are and how they not only focus on the academics, but also on fun and interaction between teacher and students as well as students with other students. "Mrs. Cyphert is nothing short of amazing. She is an incredibly passionate and caring teacher who has made Sam's live classes wonderful. She's warm and loving, and it is obvious how much she loves teaching second graders."
Does Sam agree with her mom? She sure does! "I like her because she is very nice. Mrs. Cyphert is also funny and makes our class fun. I like how she helps me to understand things."
Most importantly, Sam is happy and thriving academically. "We love the Total Care Live Blended program," Alex said. "Of all the programs offered by Bridgeway, this is the best fit for us personally. We love the live classes. We love the hands-on work we do outside of the live classes. To us, it is the perfect balance of online learning and textbook learning, which is precisely what we were looking for as working parents."
Finding the Right Routine
One of the more significant adjustments to homeschooling is figuring out how each day will go. Some parents prefer to create a schedule for each day's lessons and activities, others simply like to wing it and see where the day takes them. Often, it's a trial-and-error process for families until they find the right routine that works for everyone in the household. So, like all homeschooling parents before them, it took some time for the Klocks to get their pattern down.
"Over the last couple of months, we have found a very nice routine to structure our days and make teaching a fun experience," Alex explained. "Sam is signed up for the 12 pm and 2 pm live classes, and her mornings are spent reading books of her choice (in both English and German), working on a daily art project, and working through assignments from the previous day's lessons in the Bridgeway Learning Center (BLC).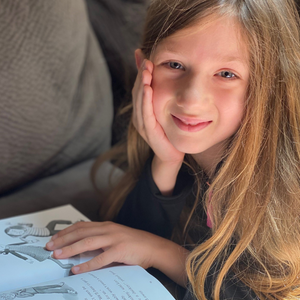 "After I am done with work, Sam and I work together on science STEM projects, language arts writings, and math and social studies later in the afternoon. Of course, some days are better than others, but overall we have found a very nice balance of work and school in our home, and it's been a rewarding two months so far."
Additionally, Alex firmly believes that the Bridgeway Learning Center is a major reason why homeschooling works for her family. "We love working through the BLC, and I thoroughly enjoy being able to see all of the lessons taught a week in advance," said Alex. "Working in the BLC online is a breeze and so much fun. I absolutely love the layout, the way the lessons are structured, the content and resources incorporated into each lesson, and the way the core subjects are being taught side by side with our textbooks. It's the perfect combination of both online learning and textbook learning."
Sam's Socialization
First-time homeschoolers generally fret that their child won't get the socialization and time with friends that they need to thrive outside of the classroom. Those parents soon realize there was nothing to worry about in the first place. Homeschooled kids actually get plenty of socialization and time to hang out with friends–sometimes even more than kids in traditional school. With Sam being a naturally introverted child, Alex was initially concerned that her daughter would be too isolated from other kids. Turns out, just like homeschoolers before her, her fears were unfounded. "My worries about a possible lack of socializing faded quickly after the school year started," recalled Alex.
"During the day she interacts with her online classmates," Alex noted. "The class is small enough for all the kids to get a chance to speak and be a part of the class. Her teacher is doing a wonderful job getting all the kids engaged."
Sam also attends Bridgeway's Food Fun club every other Friday, and she participated in Spirit Week in October, during which she couldn't wait to see the next day's activities. Outside of class, Sam attends a nature seeker class on the weekends, where she and a small group of children spend time outside. She also takes piano lessons, swim lessons, and has plenty of play dates. Additionally, Sam is fully bilingual and attends German school in person on Saturday mornings. Sounds like a pretty social kid to me!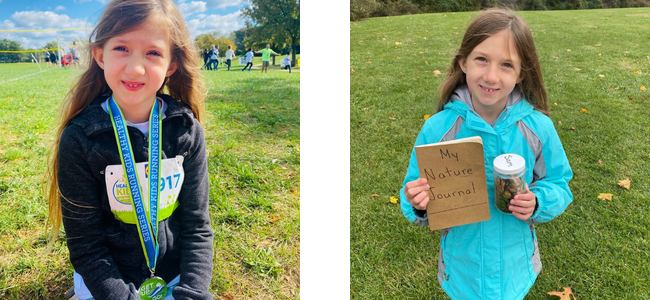 "It was easy to make friends," said Sam, "because everyone is so nice. We talk a lot in Friday meet-up class."
And the socialization isn't limited to just Sam. The Klocks have already joined a small group of parents who connected through WhatsApp and are planning on attending some other parent meet-ups organized by Bridgeway in the near future.
Advice for Parents Thinking of Homeschooling
For those of you who were in the same boat as the Klocks just a few months ago, let Sam's story be a guiding light toward all the benefits that homeschooling has to offer. Alex was recently in your position, and she says that with some thorough research, there's nothing to be afraid of.
"For me, doing extensive research on the many schools out there, my available options, and understanding the type of support you need is what led me to feel convinced in our journey," explained Alex. "Every family is so different. Every child learns differently. Once you have your mind set on what it is you need for success, just start looking for the best homeschool and curriculum. It can be overwhelming trying to find the right path, but don't be scared or intimidated."
So, Alex, why recommend Bridgeway to prospective homeschoolers?
"If you are looking for a homeschool program that offers an option for many different learning styles and family styles, Bridgeway is the best school out there, in my opinion," she raved. "If you are looking for passionate teachers, amazing advisors guiding you through any questions throughout the year, and an online learning portal and textbooks, Bridgeway offers it all in one neatly prepared package.
"One never feels 'on their own,'" she continued. "Your advisor (big shout-out to Elaine, who is incredible) is always by your side, only a phone call or email away, no matter what questions you may have (and you have a lot at first). The same goes for the live teacher. Bridgeway is the full package–all-inclusive with no worries left that your child will be learning and having fun."
It's quite clear that the Klock adults are thoroughly enjoying their homeschool experience with Bridgeway thus far. So, how about Sam?
"I want to homeschool forever."
Your child could follow the same path as Sam and the thousands of other Bridgeway students who love learning with us. To find out more about how Bridgeway Academy can offer the homeschooling flexibility, education, and overall experience you're seeking, call us at 1-800-863-1474 to speak with a homeschool expert.