It's a chance of a lifetime that not many young teenagers are given. But after a whirlwind of training and competitions all across the United States and in Italy, Elizabeth Price was selected as alternate to the U.S. Women's 2012 Olympic Gymnastics Team in London, England. The U.S. women took the gold medal, beating out Russia's powerhouse team and the third place Romanian team to etch out their place in the annals of Olympic history.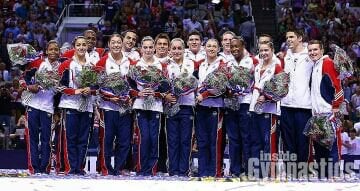 Although a bit bittersweet, being selected as alternate was no small accomplishment for the talented young athlete from Coopersburg, PA. She performed amazingly at the Olympic trials, scoring career highs on all four events and the all-around. Elizabeth finished fourth-place all around, and following the competition, she was named as an alternate for the U.S. Olympic Team. She traveled to Birmingham, England, to continue her preparations in case she was needed to fill in for a teammate in the event of an injury.
The call never came, but Elizabeth got to experience the full momentum and excitement of the 2012 Olympics — without the pressure of competition. She kept her natural positive attitude, and cheered her teammates on for the gold. "I am so incredibly proud of team USA. My teammates couldn't have represented their home country any better. I love those girls so much! Can't wait to see how they do at the upcoming competitions!" an enthusiastic Ebee announced on her Facebook page.
The total experience of the international sport of gymnastics competitions could not have happened for Elizabeth without the benefit of a homeschool education. For the Price family, there was a bit of trepidation when choosing the path of homeschooling. Elizabeth's mom, Diane Price, was wary of her own ability to provide Elizabeth with an education that universities would be impressed with. Elizabeth's mother, Diane Price, agrees wholeheartedly.
So the Prices reached out to other homeschooling families in the area for answers and support. "Once we finally decided to try homeschooling, the process wasn't as difficult as we thought it would be," said Diane. "Elizabeth is actually very excited about her coursework through Bridgeway. She loves science, and is thinking about pursuing a career in bio-medical engineering. I know all homeschool academies aren't the same, and I wanted one that universities looked at as being really good."
Ebee's recent successes are proof positive that homeschool families CAN have it both ways — allowing their child to participate in athletics or other areas of special interest such as music or acting careers — all while receiving the highest quality education possible during the flexible parts of their schedules. Bridgeway Academy congratulates you on your amazing accomplishments, Elizabeth!