Thanks to Bridgeway Academy, homeschooling performer Abby O'Branovich is ready to fly!
The 13-year-old from Texas is only in eighth grade, so she's not literally ready to fly on her own just yet, but she is ready to fly on stage as Peter Pan in the TexARTS youth production of Peter Pan Jr. slated for Jan. 14-15 and 21-22.
Abby is in the TexARTS Broadway Company pre-professional programs at the prestigious TexARTS in Austin, but she dreams of one day making her Broadway or feature film debut.
"I have big plans," the homeschooling performer says with a delightful lilt in her young voice.
"She's my little adult," explains proud mom Ashley. "This is a hard career, but exciting. She is very passionate. She always wants to know, 'What's next? What's the next challenge,' each day."
Abby is what's known as a triple threat performer. She acts, sings and dances. She is a dancer in the TexARTS holiday show this season, but has a hard time deciding which skill is her favorite because she enjoys them all so much.
She caught the performing bug as a 5-year-old after attending the TexARTS Broadway Baby camp and performed in "The Wizard of Oz."
"I really enjoyed it because it was creative and you learn so much from it," Abby says.
Getting the Lead
Fast forward just a few years. She saw her friend in a TexARTS show in fourth grade and decided to audition for "The Jungle Book."
"I cried when I saw the cast list," she remembers. "I got Mowgli."
Landing the lead role was humbling. It also proved challenging to learn all she needed to know for her first production. She was one of the younger players and learned so much from the older children who played Baloo and Bagheera. She is now thrilled to be one of the older children in Peter Pan to pass along that same type of knowledge and mentorship for the younger children just starting out.
But no one is just a lead for the Austin-based TexARTS. From the start, every role gets two people cast for it – double casting – and every lead actor must take part in other roles, including ensemble.
"It comes in handy if you want to go on to something bigger like Broadway," Abby said. "If you're an understudy, you always have an ensemble role. So here we learn lead roles and ensemble roles."
Big Demands on Time Management
There are tremendous time demands to participate in theater, which is why she became a homeschool performer. Homeschooling allows both Abby and Ashley time to manage a practice and rehearsal schedule that is filled up six days a week, not counting Sunday tennis with her dad, Brian.
Ashley originally began homeschooling Abby midway through her sixth-grade year due to some health issues. The unexpected bonus of being able to better manage their time and fit in Abby's passion for theater kindled their desire to continue with homeschooling.
"Abby has always been bright," Ashley says. "Once we switched to middle school, all the changes with the amount of homework and the number of teachers she had became more stressful than anything. Now she manages her own schedule and manages where she is in each subject without me having to remind her. Because she is doing all this extracurricular activity, she knows she has to be on track. If she has a show on a weekend, she can work ahead so that she has time to recover and sleep."
Finding Bridgeway Academy
Ashley found Bridgeway Academy when a neighbor mentioned a friend's daughter was enrolled there. Ashley found so much on the Bridgeway Academy website that she liked, and so much caring from the admissions representative that she decided to go ahead with the enrollment before ever speaking to the other mom.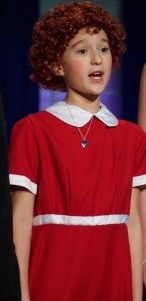 Abby's favorite Bridgeway classes are science and world geography that have pause-and-play functions so you can take better notes or replay the material, much as directors do with actors.
Abby first trod the boards at TexARTS as Mowgli, and since then has earned roles in Charlotte's Web (as Fern's aunt Edith Zuckerman, Spider No. 1, announcer, an owner of a competing pig), Aladdin (Abu the monkey), Into the Woods (Cinderella's evil stepmom), Beauty and the Beast Jr. in a summer intensive with 17- and 18-year-olds, Annie (as everyone's favorite redhead), and Legally Blonde (as Elle's rival Vivian Kensington).
"Just don't ever give up," is Abby's advice to others. "Pursue it. If you see someone else do it, you can too!"
Don't let your child's growth be limited by the ordinary. Explore how your aspiring singer, musician, artist, dancer, actor or athlete can hone their craft and follow their dreams. Learn more about how to join the academically accredited programs that allow Bridgeway families to homeschool with confidence and achieve their dreams!