Graduations are often bittersweet occasions for both student and school. On one hand, the student is proud of his or her accomplishments over the years and excited for what lies ahead…but the laughs, the achievements, and the experiences will soon be memories.
For schools, like Bridgeway Academy, there's the pride we have in the achievements of our graduates and the excitement of the future success that awaits them…but there's also a sense of sadness, knowing that these impressive young men and women are leaving us behind, moving on to bigger and better endeavors.
But at the end of the day, we are humbled by how wonderfully our graduates have represented–and will keep representing–the Bridgeway name. So, while we're a bit teary-eyed as we send off the graduating class of 2021 on June 5, we're also beaming with pride and thrilled for our grads and can't wait to see what the future holds for them.
Every Bridgeway Academy graduate holds a special place in our collective hearts, and we'd like to take this opportunity to introduce you to two of our outstanding Class of 2021 graduates: AnnaKate Bickel and Abigail O'Branovich. Each young woman will be forging her own path this fall, and they've allowed us a sneak preview of their future plans!
AnnaKate Bickel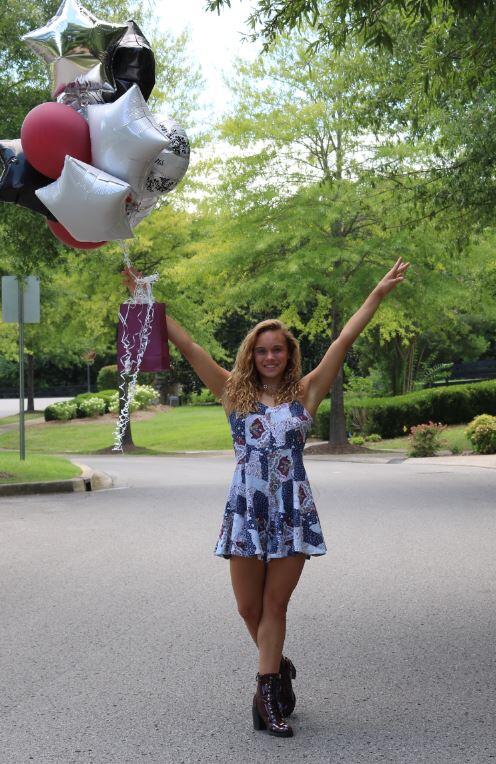 Athletics will play a major role in AnnaKate's immediate future. A Bridgeway student for six years, AnnaKate was recruited by the Texas Woman's University gymnastics team and plans to compete for the squad upon her arrival on campus. While studying with Bridgeway in our Total Care Elite program (which is perfect for competitive athletes), AnnaKate not only competed for Let It Shine Gymnastics, she also made some waves–figuratively and literally–from the diving board.
While diving for Franklin High School (her local public school), AnnaKate recently set the school record for high point dive score and placed first in her regional meet. In fact, AnnaKate made such an impression on the school that she was awarded the Franklin High School Admiral award for "her example of leadership, strength of character, and her encouraging Admiral spirit"!
But athletics is not AnnaKate's only area of proficiency. Far from it. Of her high school accomplishments, AnnaKate stated that she was most proud of being inducted into the National Society of High School Scholars as well as the Texas Woman's University Honors Program, which includes a partial scholarship.
AnnaKate plans to major in Pre-Occupational Therapy at Texas Woman's University, and we're quite confident that she'll be able to effortlessly handle both her studies and her gymnastics team responsibilities like a pro.
As AnnaKate steps away from Bridgeway and into the next phase of her life, she wanted to make sure one person knew how much she meant to AnnaKate throughout her Bridgeway career: "Mrs. Christie Curtis, my advisor, has been the most important person for me, helping me to achieve my academic goals, stay on track, and excel in my endeavors."
We have no doubt you will, AnnaKate, and we couldn't be more proud of you, your amazing accomplishments, and your representation of Bridgeway at Texas Woman's University!
Abigail O'Branovich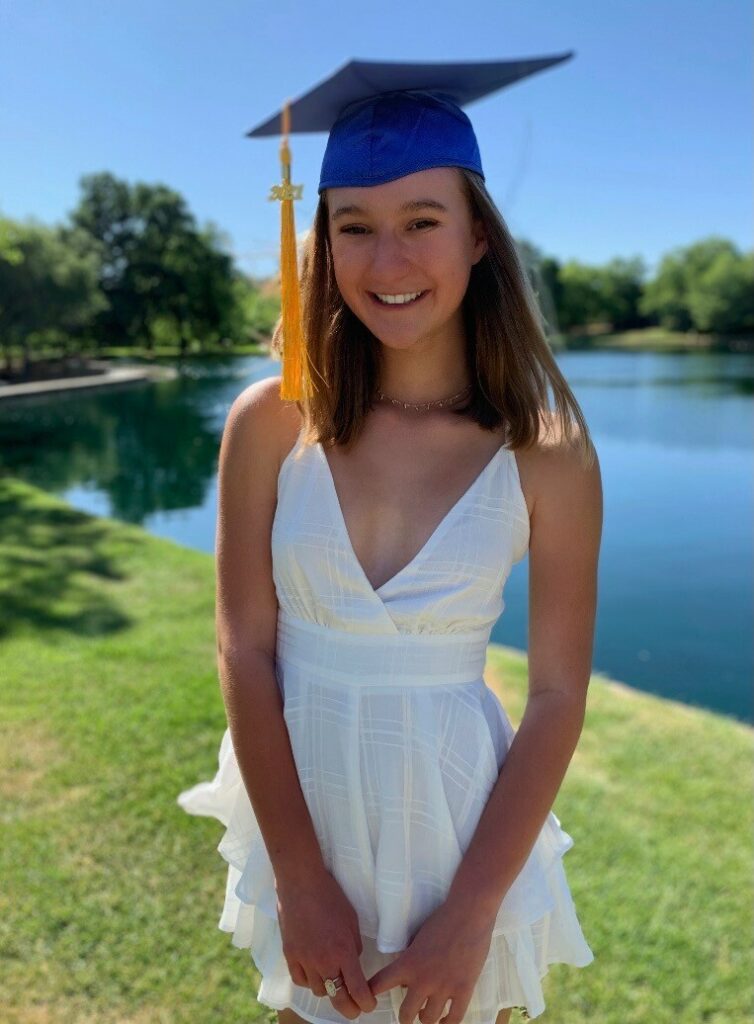 Much like AnnaKate, Abigail began homeschooling with Bridgeway right around middle school (halfway through sixth grade) and has been with us for seven years. And while athletics are a passion of AnnaKate's, Abigail's interests are quite different–she is a musician, a singer, an actor, and a writer.
If it sounds like Hollywood might be in Abigail's future, there's good reason–during her junior year with Bridgeway, Abigail began work on a school project for her State History class. What started as an assignment transformed into her passion project–a full-length feature film screenplay (copyrighted, no less!) created through a year-and-a-half of researching, interviewing, and writing. It's no wonder this screenplay is what Abigail considers her "proudest achievement yet."
Being a multifaceted performer requires much time and practice, but Abigail impressively managed to achieve straight A's as well as High Honor Roll throughout her Bridgeway career–all while balancing her multitude of extracurricular activities:
As a member of Bridgeway's National Beta club for two years (including one serving as secretary), Abigail helped with the group's mission to volunteer and enact change in communities.
As an Awareness Ambassador for the Epilepsy Foundation–a cause that is personal, near, and dear to Abigail (she was diagnosed with the disease in 2013, leading her to homeschool with Bridgeway)–she became certified in seizure first aid and is working with the foundation's staff to create a video that will help spread more awareness about epilepsy.
Just as AnnaKate showed her academic advisor heartfelt appreciation, Abigail highlights a few people who have made a difference throughout her time at Bridgeway. "I would like to thank my advisor, Victoria Ostertag, for helping me throughout my high school career. She has always taken the time to answer questions and help guide us in the right direction. She has always been very helpful and flexible, and has been a great source for me to refer to these past four years."
"I would also like to thank Ms. Leister, my Journalism teacher this past fall," Abigail continues. "She really helped me realize that journalism was something I wanted to pursue in college. She has given me great advice and so much of her time, which has helped me prepare for job interviews at my university's media group, which in turn has made me feel confident and prepared for the next four years."
With accomplishments such as those achieved by AnnaKate and Abigail, it's easy to see why Bridgeway is so proud of our graduates–they're not solely about academics or athletics or activities. These well-rounded students encompass everything that Bridgeway represents. They exemplify hard work, dedication, passion, kindness toward others, the drive to make a difference, leadership by example. We could go on and on.
And that's what makes graduation so bittersweet–we're so proud of AnnaKate, Abigail, and all of our Class of 2021 graduates for what they embody, but what they embody is also why we'll miss them so much.
Congratulations to all of Bridgeway Academy's Class of 2021 graduates! We can't wait to hear about all the success that awaits you during the next chapter of your lives, and we know you'll make us proud no matter where life takes you.