Bridgeway Academy graduate Hannah Cook is ice dancing her way across the world!
Hannah, who graduated from Bridgeway Academy last fall, will be competing in the 2017 ISU World Junior Figure Skating Championships March 15-17 in Taipei City, Chinese Taipei (Taiwan). She and partner Temirlan "Tima" Yerzhanov will be competing for his country, Kazakhstan, in hopes of setting the stage for a chance to compete in the 2018 Winter Olympics in PyeongChang, South Korea.
"There are many things that have to come together for that to work, including sponsorships and dual citizenship for Hannah," said Karen Cook, Hannah's mom.
Ice Dancing
Hannah and Tima compete in ice dancing, which is judged on a short dance and a free dance, and always skated to a definite musical beat and rhythm. It originally began as a version of ballroom dancing on ice back in the 1950s, but has become more explosive and athletic than its original form.
The U.S. is one of the dominating forces in ice dancing, with memorable performances at the 2014 Olympics in Sochi, Russia by gold medal-winners Meryl Davis and Charlie White.
But the U.S. sends just two teams to international competitions. Ice dancing with Tima has afforded Hannah the opportunity to not only skate on the invitation-only Grand Prix international circuit, but excel on it.
They finished fifth overall at the Santa Claus Cup in Budapest, Hungary Dec. 11-12 to qualify for Junior Worlds.
"The short dance requirement was blues, like a ballroom dance pattern on ice," Hannah said. "Then we added swing with that. The free dance was from Romeo and Juliet with Josh Groban singing "Un Giorno Per Noi," which means "A Time For Us."
On the Move
Hannah and Tima joined forces almost two years ago after leaving their previous partners. For Hannah, it came down to commitment. Her first partner had different goals. Hannah and her mom were living in California at the time. They had moved there from Texas so that Hannah could pursue her first passion at the Los Angeles Ballet School. She's only been skating for five years.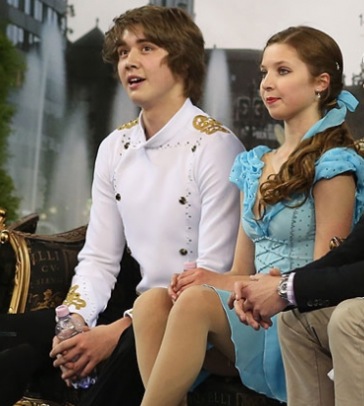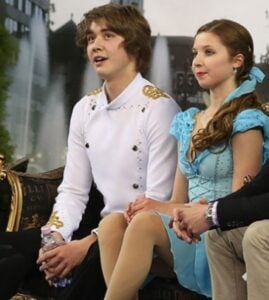 "I've been a dancer my whole life, and that really helped me transition to skating," Hannah said. " I had always wanted to skate, but growing up, we never lived near a rink. In California, there was a rink down the street, and I wanted to try it. It came easy to me, but I was 14 and just learning. I felt if I tried hard and did extra practices, I could do it."
"I still wanted to dance, but I realized that if I did twice the skating practice, I could actually do what I always wanted to do. And that ended up being dancing on ice, the best of both worlds."
Meanwhile, Hannah's older sister Lexie, and dad, noted sports psychologist David L. Cook, stayed back in Texas where his business is based.
"It is difficult for the family," Karen admitted, "but we felt it was what we were led to do. God is always at work accomplishing other things simultaneously, even when it's difficult."
Superb Coaching
When Hannah found Tima through a skaters-match program, she and her mom moved to Florida. About a month after skating together, Hannah and Tima worked some magic by convincing Evgeny Platov, a two-time Olympic gold medal-winner in ice dancing, to come out of coaching retirement.
"It's really exciting," Hannah said. "He had gone into retirement and moved to Florida to enjoy life and golf. We called him to see if he'd come back, and he did. We are so thankful and blessed. He's really enjoying it. We're the only team he's working with, so we get prime time with all his attention."
Homeschooling Helps
Homeschooling helped make this all possible. Hannah and her sister have been homeschooled their entire lives.
"My dad's job took him traveling quite a bit," Hannah said. "My parents felt it would be an enrichment to travel with him, to see the different lifestyles and keep the family close."
Hannah started with Bridgeway Academy as a freshman in high school after she and her mom met Bridgeway representatives during a California homeschool convention.
"Out of everyone there, Bridgeway seemed to be the most flexible for my goals," Hannah said. "I liked that you could choose the curriculum that fit you best. You have so many options, and our advisor is wonderful. We love her. Julie has bent over backwards and been a friend through all of it. To work with people like Julie is a privilege and blessing."
Hannah has plans to attend college once her skating career is over, and maybe even take some courses online to complete her basic requirements.
For now, though, she and Tima are preparing for the Bavarian Open in Oberstdorf, Germany Feb. 14-19 as they continue to prepare for Junior Worlds.
Congratulations Hannah!
Bridgeway Academy is proud of Hannah's accomplishments, commitment, and determination.
In order to achieve athletic dreams, elite athletes like skaters, gymnasts, soccer players and hockey players sometimes require the flexible academic schedules available by homeschooling with an online high school. Many of them desire to remain NCAA-eligible.
If you want to find the best academic program for your student-athlete, please give Bridgeway Academy a call at 800-863-1474 to talk to one of our helpful advisors. You can also check out all the details of our NCAA-cleared program if your goals include competing in college.