Not all students fit inside the box or have the same dreams as their peers. But, as we who roam the homeschool world know, this is actually a good thing! Independence of thought, creativity, and self-direction are hallmarks of homeschooling, and essential for success in life, something our 2016 valedictorian Joshua Appel demonstrates with pride. Graduating at the top of a homeschool class is not an easy feat. Through commitment and determination, Joshua excelled and ended up graduating with honors–a true homeschool success story.
Joshua's homeschooling journey was entirely unexpected. The catalyst occurred when in 5th grade he was asked to write down his goals for the year. According to Joshua his goals "didn't align with the goals his teachers wanted him to have." After rewriting them a second time, Joshua was sent to the Principal's office. Realizing that their child was not going to thrive in the public school setting where differences are not appreciated, Joshua's parents decided to homeschool. After a brief trial at a private school in 9th grade, it was clear that homeschooling was the best fit for a bright and creative mind like Joshua. He returned to homeschooling and never looked back.
During his high school career, Joshua excelled at math, specifically Pre-Calculus. He enjoyed the problem solving, graphing, and abstract thinking that higher level math courses encourage. Joshua also enjoyed his Dual Enrollment experiences, gaining college credit and saving money while he was in high school. Not only will this help smooth his way in college as he's already prepared for the academic requirements, but he's also saved quite a bit of money and shown that he's ready and capable of being an asset to any college.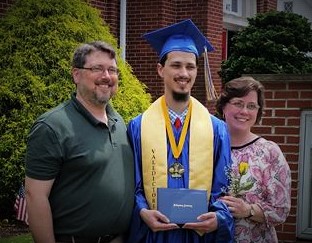 Joshua's experience with Bridgeway was a positive one. The key to his homeschool success was the organized curriculum and support from the Academic Advising team. When asked about his future, Joshua stated he's focused on getting through college. However, he dreams of starting his own software company. "I would love to create entertainment software. Not just games, but the software that can help generate creativity."
Joshua has sound advice for other homeschool students who are looking to do their best in high school and beyond. "Keep pushing forward. Whenever I came to a struggle, I would 'grin and bear it.' Before I knew it, the challenge was over and could keep thinking about other less stressful things. Not matter what you are facing, keep pushing through it. In the end, it's worth it." Those are sound words that spell homeschool success for any student!
We know there is no stopping what Joshua Appel can accomplish because homeschooling allowed him to be his authentic self, think critically, and find his path in life. Congratulations Joshua! We wish you all the best in your bright future.