High school graduation is always an exciting time. Bittersweet, but exciting. We will certainly miss our departing seniors as they embark on the next phase of their life's journey. But graduation is a time for celebration. And, on Saturday, June 3, Bridgeway Academy held its Class of 2023 graduation ceremony at Cedar Crest College in Allentown, Pennsylvania! More than 4o graduates and their families attended the amazing celebration, where our graduating seniors walked the stage and received their diplomas, then joined their classmates from around the world in commemorating the milestone.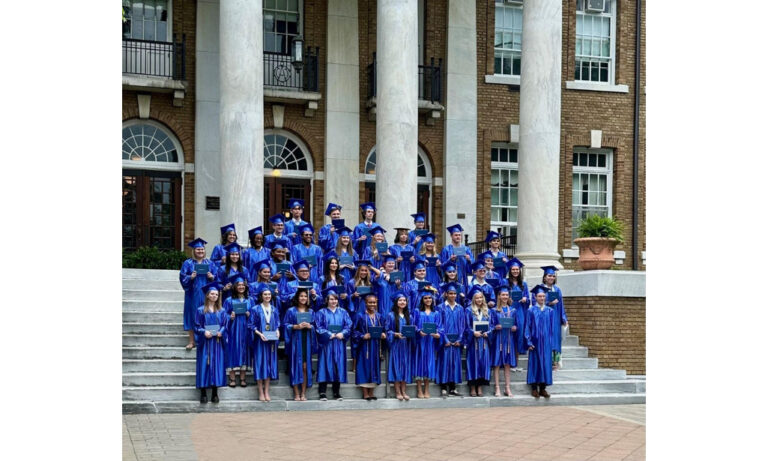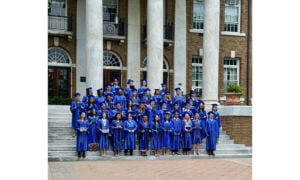 And everyone in attendance was treated to some truly inspiring music courtesy of graduating senior Fabio Viloria, who came all the way from the Dominican Republic for his graduation ceremony!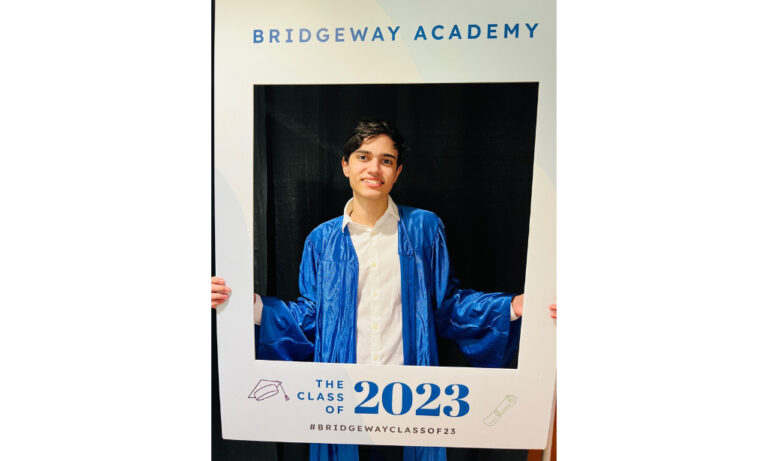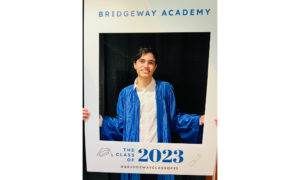 Fabio delighted the crowd with his piano playing, adding just one more beautiful layer to what was a wonderful day.
Every student and their family should be so proud of their incredible accomplishments. Homeschooling, while extremely rewarding and beneficial for so many reasons, is no walk in the park! Many hours of hard work are necessary to reach this point; graduation is a culmination of that dedication and perseverance. So, congratulations to every Bridgeway Academy Class of 2023 graduate!
Our 2023 Award Winners
Each year at graduation, we honor one student in six different categories. These include Outstanding Service, Fine Arts, Performing Arts, Outstanding Athlete, Industrial Arts, and 4H. The winners of these awards consistently demonstrated excellence, talent, and ambition in their specific category throughout their time with Bridgeway. We'd like to introduce you to the Bridgeway Academy Class of 2023 award winners!
Outstanding Service: Noor Khan – Houston, TX
Community service is always a priority at Bridgeway Academy. We believe that it builds character, shows compassion and leadership, and (most importantly) helps others in need. Noor Khan is this year's winner of our Outstanding Service Award thanks to her unwavering commitment, exceptional volunteer work, and remarkable achievements in community service. Among Noor's amazing accomplishments and service is her outstanding work as the youngest volunteer at Kuwait Government Hospital's Hospice and Palliative Care for Children. Despite her own hardships and challenges (she is the sole caregiver to her mother, as her siblings are in college and her father works in another country), Noor continued dedicating herself to making a positive impact on the lives of the less fortunate.
Noor also put together a long list of charity fundraisers, field trips, mall flash mobs, play sessions, and interactive sessions for the benefit of needy and sick children. Her tireless service and passion have made an immeasurable impact on the lives of others. Her commitment to volunteer work at such a young age is a testament to her character, maturity, and sense of social responsibility. She embodies the values of empathy, kindness, and generosity. And her actions inspire and motivate those around her, serving as a shining example for her peers. Congratulations, Noor!
Fine Arts Award: Audrey Finn – Middlebury, CT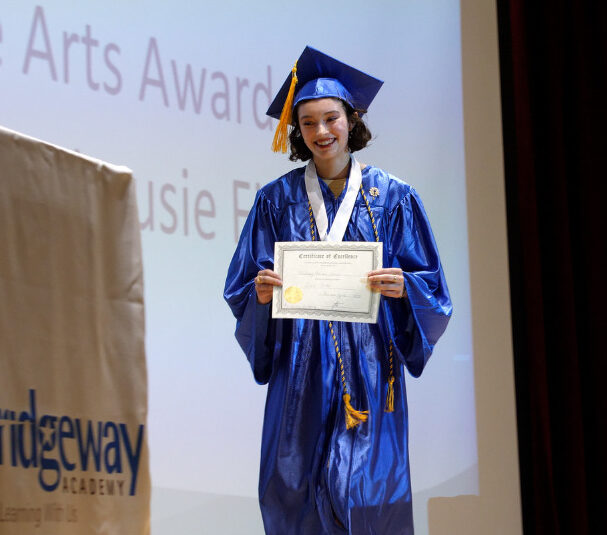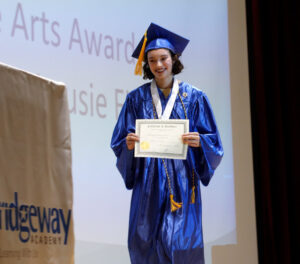 Bridgeway is fortunate to count so many talented performers and artists as students. And that made the decision to choose only one winner of the Fine Arts Award so difficult. But Audrey is a passionate vocalist who has been honing her craft through tireless studying and practicing every week over the past four years. Between her hard work and her God-given talent, Audrey has received some amazing opportunities to showcase her abilities. She sings as a choir member of the Middlebury Congregational Church, was selected by the Connecticut Musical Educators Association to participate in the Southern Regional chorale concert as a soprano in the fall of 2019, and plans on actively singing in vocal groups when she attends Franklin and Marshall College in the fall. Well done, Audrey!
Performing Arts Award: Seja Foster – Billings, MT
The performing arts go far beyond just stage acting or music. There are so many moving parts behind the scenes that make a production successful. Bridgeway graduate Seja Foster has a hand in so many of these roles that naming Seja the winner of the Performing Arts Award was a recognition that's more than deserved. Having caught the acting bug at age 4, Seja has played major roles in shows such as Les Miserables, A Christmas Story: The Musical, Newsies, Shrek, and Disney's The Lion King.
Seja's love for the theater extends beyond acting and into that all-important behind-the-scenes work, including spending countless hours volunteering as a wig tech, a costume designer, a stagehand, and even an usher. In fact, Seja not only performed in this year's Disney's The Descendants at Billings Studio Theatre, but also designed and hand-painted some of the costumes! Along with acting and stage work, Seja is also a competitive dancer who has placed among the top 10 in several competitions. This is a well-earned honor, Seja!
Outstanding Athlete Award: Arielle Goudeaux – Mt. Holly, NC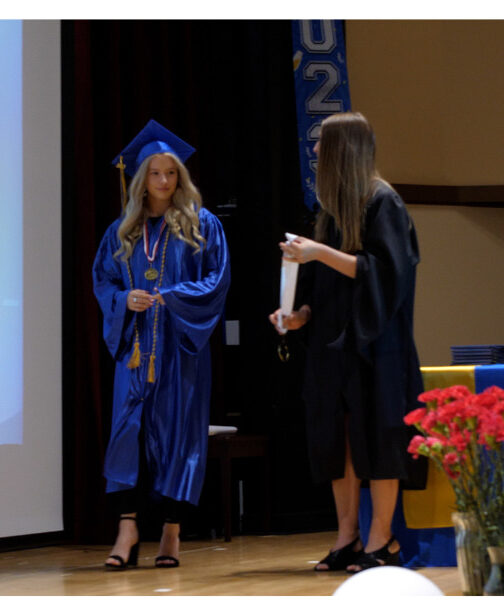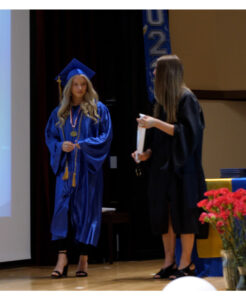 If you're a regular reader of this blog (thank you!), you may already be familiar with Arielle Goudeaux's story. Arielle has been a gymnast for 13 years and won the title of Tennessee State All-Around Gymnastics Champ twice. She's also placed in the top 100 in the country in floor exercise and earned the title of Gymnast of the Year in Nashville. Arielle transitioned to Acro-Tumbling, a sport in which she also excelled. This led to her becoming the first signee of the Class of 2023 to the Acro-Tumbling team for Emmanuel College, where she will begin her studies this fall!
In addition to earning an athletic scholarship to Emmanuel College (becoming the first member of her gym to ever earn a scholarship in the sport of Acro-Tumbling), Arielle also spends the little free time she has coaching 90 children a week in gymnastics. She has also been a volunteer for six years in children's ministry at various churches, assisted two homeless women in getting permanent housing, and coordinated blessing bags for the homeless on the street as well as for men recovering from addiction. Arielle has also been involved in the coordination of countless church outreaches and holiday events for six years. While Arielle's athleticism earned her the Outstanding Athlete Award, she makes Bridgeway proud beyond the gym as well.
Industrial Arts Award: Layla Paige – Trumbull, CT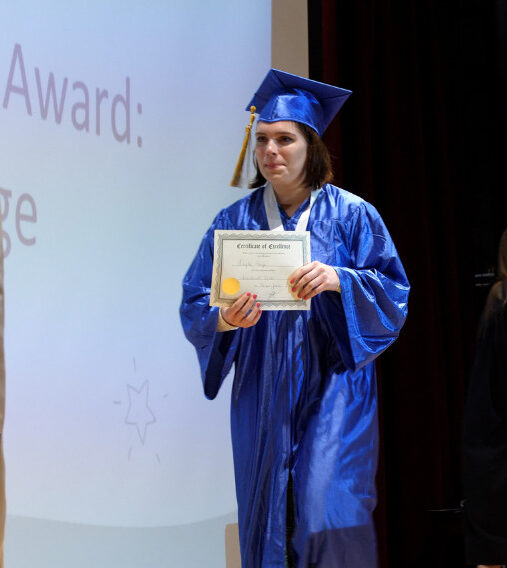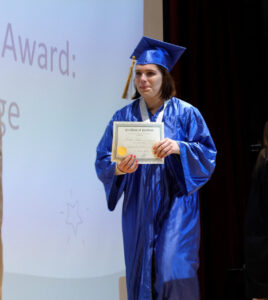 Being a carpenter takes talent. Being an esthetician requires an entirely different type of talent. Being both…that's something truly special, and that's exactly why Layla is our Industrial Arts Award winner for 2023! Not only has she studied carpentry and woodworking for two years, but Layla also decided to pursue training in the beauty industry. She can not only build a cabinet, but she can also provide a professional facial! Layla is now a licensed esthetician who works in a high-end spa. And she does so while working with her father as a beginning carpenter in her hometown of Trumbull, Connecticut. Her incredible talent and amazing versatility make Layla a clear-cut winner of this award. Congrats, Layla!
4H Award: Kaylie Nicole Shelton – Laytonsville, MD
This year's 4-H Award winner does it all. Active in 4-H since she was only 7 years old, Kaylie has held projects in the Montgomery County, Maryland 4-H Beef Club as well as the Sheep and Swine Club, and actually served as president and vice president of both clubs. She raises Hereford cattle that she shows at the national level and has won Grand Champion Steer at the county level as well as the state fair level. Kaylie is also quite the baker, having won competitions with her red velvet cake. It is fitting that, for her last year in 4-H, Kaylie is the recipient of our 2023 4-H Award. Well done, Kaylie!
Congratulations to all our 2023 award winners and all graduates from the Bridgeway Academy Class of 2023! We can't wait to see what you accomplish!