"Excellence is never an accident…it's the result of hard work. Go forward, work hard, and attain excellence; the kind of excellence that will make your dreams reality."
Those inspiring words were delivered to Bridgeway Academy's graduating class of 2021 by Madelyn Paterson, the class valedictorian. As Madelyn shared her wisdom with her fellow graduates, we'd like to share a little bit about Madelyn and her journey to graduation.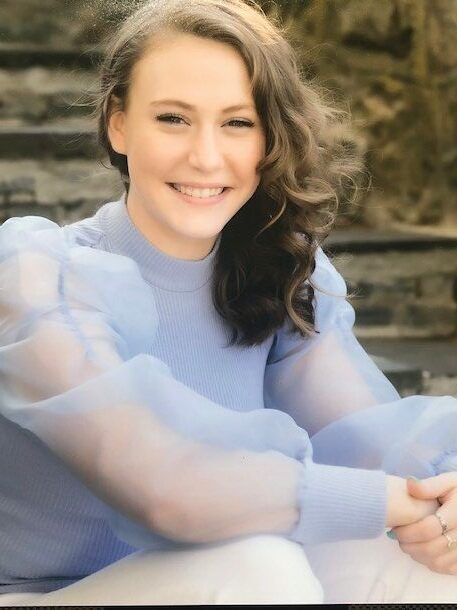 Madelyn is a lifelong homeschooler–she was homeschooled through all 12 grades by her mother, Andrea, along with her six siblings. During her time homeschooling, Madelyn had been a competitive gymnast before injuries forced her to step away; but she quickly filled the void gymnastics left with a passion for her education. That passion compelled her to enroll in an American History course at a local community college during the summer before her junior year of high school. Upon completion of that class, Madelyn knew she wanted to sustain her pursuit of knowledge, so she signed up for more dual enrollment courses at local colleges. Earning those credits turned into Madelyn's proudest academic achievement–she attended classes at three different colleges and accumulated 51 college credits while maintaining a 4.0 grade point average at each institution!
Madelyn's accomplishments at such a young age go beyond the classroom, however. She volunteers frequently within her community and was the president of Bridgeway's National Beta Club; she credits the National Beta Club's leader, Holly Morgan, for helping Madelyn promote academic achievement, character, leadership, and service in her life.
One cause in particular that Madelyn has taken to heart is the children suffering through poverty in Haiti. She became an advocate for these children and joined her church's Haiti Committee, where she was the only minor among the adult community group. Through their work and dedication, Madelyn is proud to say that she believes the group made a difference in the lives of children in need.
Along with volunteering and other community work, Madelyn somehow found the time to begin working at the age of 15, and she diligently saved all of her earnings so she could significantly contribute to the cost of her college education. She'll be putting those funds to great use beginning this fall, when she plans to attend Furman University in South Carolina, where she will pursue a major in Biology following the Pre-Med track. From there, Madelyn has her sights set on medical school and a career as a surgeon.
Though her four years with Bridgeway Academy have come to an end, Madelyn is truly thankful for the education she received and for the people who walked with her on her journey. She singled out one person as a difference-maker throughout her high school career at Bridgeway.
"Tammy Lyons, my advisor, was an essential piece of my education," said Madelyn. "She encouraged me and supported me during all of the especially difficult times when I was lacking in motivation or was having trouble getting my honors assignments done. I am very grateful to her."
During her valedictorian speech to the Class of 2021 on June 5, Madelyn loosely quoted Robert Frost when discussing her–and her classmates'–decision to homeschool:
"We took the road less traveled, and it has made all the difference. We have all taken that road together. We have all chosen the less traveled education. But the beautiful thing about roads is that they always lead somewhere. As many of us have found, one of the tremendous blessings that comes with homeschooling comes like that of a river that flows with opportunity. It bubbles with independent thought and spills over a freedom of education."
As a lifelong homeschooler, Madelyn has experienced all the benefits of this form of education. During her speech, she reflected on some of her fondest memories of homeschooling, such as the warm, sunny days when class was held outdoors, the field trips she embarked upon with her family, the surprise pajama days, and the boundless laughter she shared with her siblings when they simply could not contain themselves.
Those days have ended, but what remains are not only those memories but the passion for learning that homeschool inspires. With these brilliant and eloquent words, Madelyn may have inspired a whole new generation of learners to carry the homeschool torch for years to come.
"In the world we live in today, we need the creative minds, the critical thinkers, the passionate personalities, the truth seekers, and the lifelong learners that homeschooling creates."
We couldn't have said it any better ourselves, Madelyn. Congratulations to you, our most-deserving valedictorian, on your completion of the homeschool journey. Your Bridgeway family wishes you nothing but the best in college and beyond. You've already made us proud, and we truly cannot wait to hear about the success you experienced in all your future endeavors.
And that goes to every single one of our Class of 2021 graduates. You're all exceptional and you make Bridgeway Academy proud to have been your homeschool partner.
Best of luck, Class of 2021!