As a parent, it's natural to think that your child is special and gifted. After all, every child is special! However, from time to time, we notice something unique in a child and wonder…"Is this normal? Should he/she know this at their age?" That was certainly the case with Erika Cook, her husband, and their daughter, Aria, a soon-to-be first grader at Bridgeway Academy.
"We recognized that, even without assessments, Aria was advanced in her learning," explained Erika. "At 3 years old, she was showing interest in reading and had already far surpassed the preschool level."
Because the schools in their Texas hometown would not enroll Aria at such a young age, Aria's parents began to explore alternative methods of education that would encourage and develop–not hinder–her intellectual growth. Which led them to Bridgeway Academy.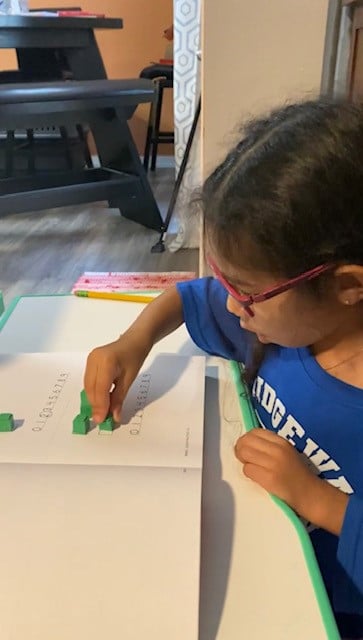 A special child
At the ripe old age of three months, Aria began displaying signs of her intelligence and advanced development. She was sitting up on her own, she began learning letters and numbers at six months old, and she even took to potty training at the same age! Some parents might even consider that a miracle.
And that age-old expression, "one must learn to crawl before learning to walk"? Didn't apply to Aria. She never crawled. She took her first steps at eight months of age, and she never looked back. "We started introducing words and flash cards to her around year 1, and everything has always stuck," said Erika. "At every single stage, she was blowing us away. She was talking up a storm at 2, with a vocabulary almost better than ours! I think the day my husband sneezed and Aria responded with 'gesundheit'–a word neither of us taught her, we knew she was way ahead of what we could imagine."
To encourage Aria's curiosity and hunger to learn, Erika and her husband continued challenging her at home but soon couldn't go fast enough. They knew that Aria needed to learn in a more structured way. Since she was too young to enroll in public or private school, and with the COVID-19 pandemic and all its associated concerns in full force, Erika decided to homeschool Aria.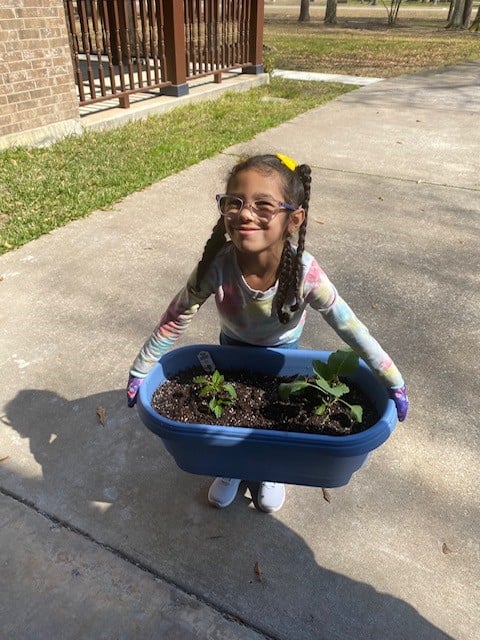 Deciding on Bridgeway Academy
Aria's situation was a bit unique in that she was ready to begin kindergarten at least two years before most children start school. Taking that into account, accreditation was a major factor in the Cooks' decision to homeschool Aria with Bridgeway Academy. "We knew Aria would be starting early and ahead of her peers in the same age group, so we wanted to make sure that she got credit for every grade she completed," said Erika.
Knowing that accreditation wouldn't be an issue, the Cooks enrolled Aria in the Discover! Kindergarten program, which turned out to be the perfect choice. "We LOVED the kindergarten program Aria was enrolled in," explained Erika. "It was challenging enough to keep her engaged and learning at a fast pace–it was exactly what she needed."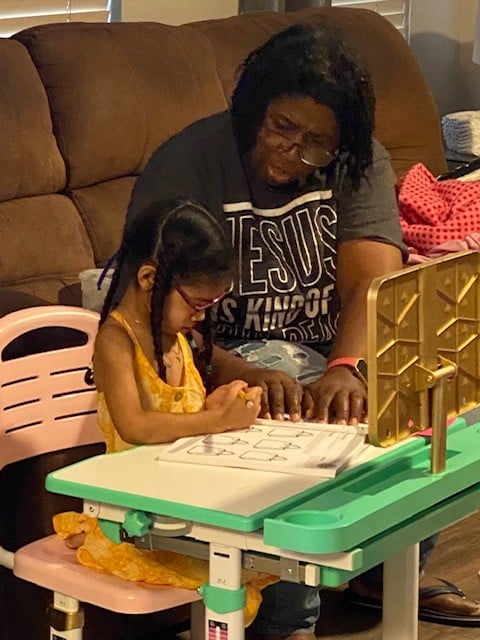 The importance of learning at her own pace
When deciding whether to homeschool, one of the most important factors in the decision is whether the student will be able to learn at his or her own pace. In fact, that's one of the major appeals of homeschooling–the fact that struggling students aren't trapped in a classroom environment that is moving too quickly for them to stay afloat, and that advanced students (such as Aria) aren't weighed down by a class that moves more slowly than their comprehension.
Homeschooling–especially with Bridgeway Academy–ensures that every student learns at the pace that's best for them, and in a way that is tailored specifically to their unique learning style. This was a point of emphasis for the Cooks when they were researching their homeschooling options. "We were assured that Bridgeway Academy would only encourage Aria to thrive and in no way hold her back," recalled Erika. "As long as she was able to grasp the curriculum and concepts, Aria would be able to advance at her pace. Knowing that she was advanced, this was a BIG deal for us.
"We never want to hold her back," Erika continued. "We only want to encourage her to reach for the stars and achieve greatness, and we were positive that the Bridgeway environment would support that."
A typical school day for Aria
For kindergarten, Aria stuck to a pretty similar routine each day. She'd wake up, get dressed, eat breakfast, and then begin her school day around 9:00 AM by heading down to her Aria-sized desk and chair workspace (which soon became the kitchen table and has since become a bigger, more dedicated area in which she can work).
With both of Aria's parents working full-time, her grandmother (Nene) assumed primary responsibility for teaching Aria. Nene and Aria would take on a subject for about 45 minutes, then take a 15-minute break in between each class. Aria would also occasionally enjoy some educational programming on Netflix, with shows like Number Blocks and Ada Twist Scientist supplementing her learning. And, of course, there were field trips (both in-person and virtual) to museums and parks to continue the learning in a more hands-on way.
"I like to learn at home with my Zoom field trips and to learn things I don't already know," said Aria. "I like when my Nene teaches me, and my Mommy too! It's fun to be able to build my garden and go on cool field trips that talk about what I've learned."
It sure seems like the Cooks have homeschooling down pat. Just don't tell Erika that. "I would definitely encourage [homeschooling], with the caveat that it is a lot of hard work," said Erika. "It is absolutely a full-time gig."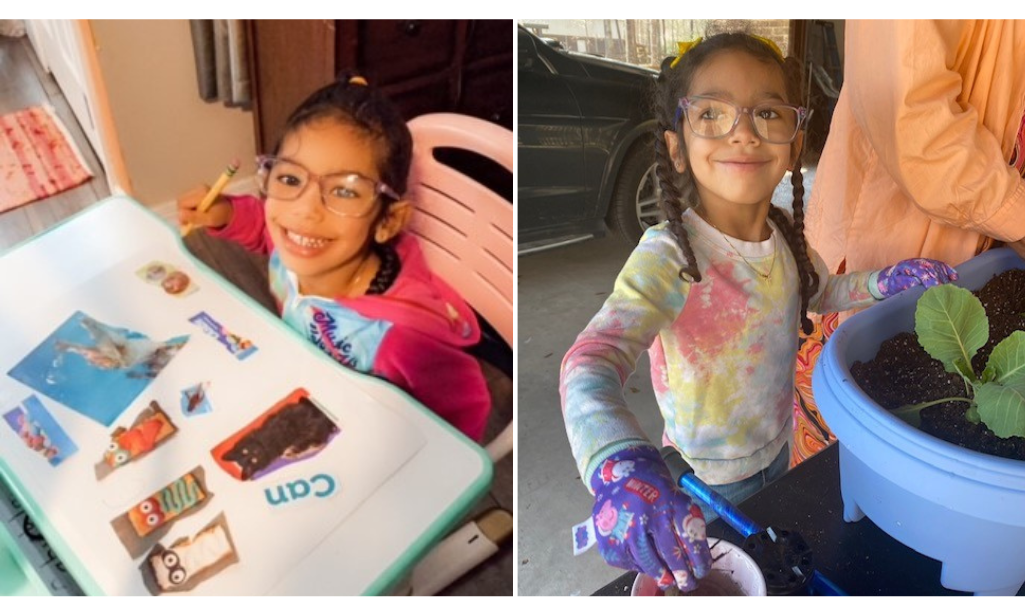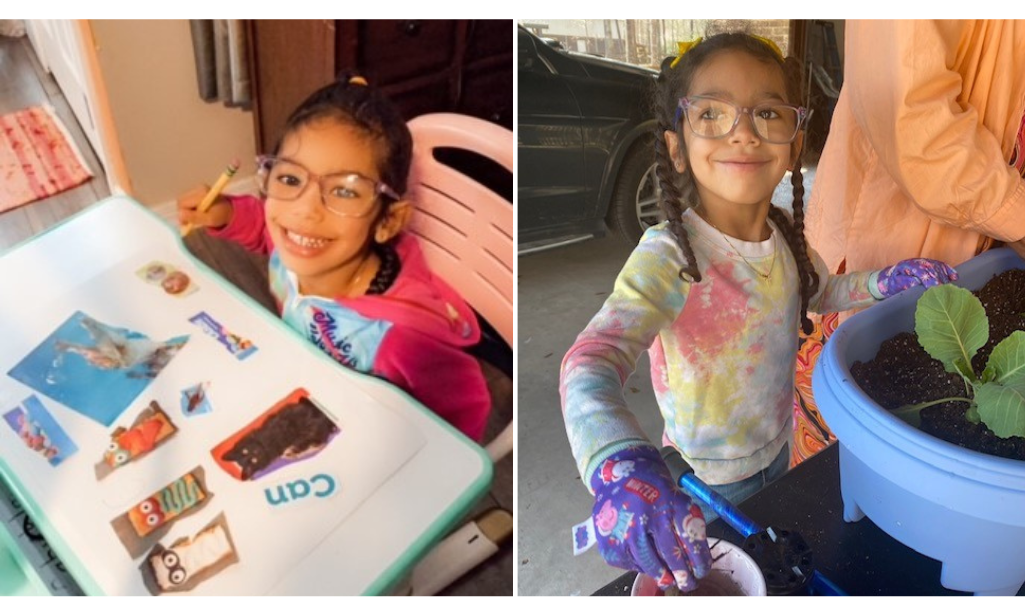 Some help along the way
As Erika noted, homeschooling is challenging. Rewarding? Absolutely. Easy? No. Fortunately, Bridgeway Academy makes life easier on homeschooling families by providing each with their own academic advisor. That's why, at the beginning of the homeschool journey, we introduce each family to their advisor, so they know someone is always there for them and available for help and/or support.
"One of the biggest things that sold us on Bridgeway Academy was our conversation with our advisor, Briana, who even took the time to chat with Aria to get to know her," recalled Erika. "Briana has been, in one word, AMAZING. She has helped me and Aria's grandmother when we have been lost trying to figure out how to handle the curriculum, and she's been so patient when it comes to answering questions.
"She's not just involved with me, she has also taken an active interest in Aria and speaks to her every time we have a phone conference," Erika continued. "Briana has been an incredible resource for us, and we're so happy to have her on our team."
Bring on first grade!
Aria is ready for a big year in first grade–at the age of 4! She's enrolled in our Total Care Live Blended program, "because we felt she was ready for that classroom environment where she interacted with her teacher and classmates on a daily basis," commented Erika. "I know that she's ready to step up and meet this next challenge. She's excited about it, and so are we."
That's an understatement. When asked if she's ready for first grade, Aria exclaimed, "Yes!! I'm excited to go to first grade to learn more about science."
Why?
Because "if I go to school, I will learn everything so I can become a firefighter and a paramedic when I grow up. I want to be a firefighter and a paramedic because, if someone is in trouble, I would like to save them."
Smart and brave!
But Aria is pretty excited about math, too: "My favorite subject is math. I like using my number blocks for addition and learning to count by 2s, 5s, and 100s. I also love to connect the dots and color!"
Oh, and reading too. And why not? She's 4 years old and reads at a third-grade level! "She loves to read and is now starting to get into books without many pictures," explained Erika. "She is also reading to us at bedtime, as opposed to us reading to her."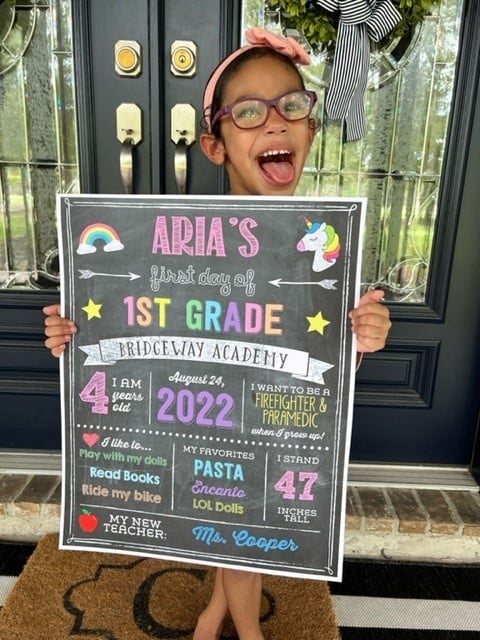 Getting social
At only 4 years old, Aria's social opportunities aren't exactly abundant–especially at school. Socializing at that age generally comprises preschool, a playdate here and there, maybe an activity or two. Also worth noting is that Aria is a year (or even two) younger than most of her soon-to-be classmates, and any friends outside of school probably won't relate to her first-grade experiences.
Still, Erika makes sure that Aria has plenty to do and plenty of people to see. "She has swim class and also participates in various activities and events specific to her age group," Erika noted. "This is another reason we wanted to do the Total Care Blended Live program, to continue to introduce her to more kids." She's also made it a point to get Aria involved in Bridgeway's Spirit Weeks and to participate in virtual field trips.
Erika's social game is solid as well, as she's an active member of the Bridgeway Academy Facebook community. Through our Facebook group, Erika has connected with several other homeschooling moms in her hometown area and made plans for their kids to meet up and hang out. And people say that homeschoolers don't socialize…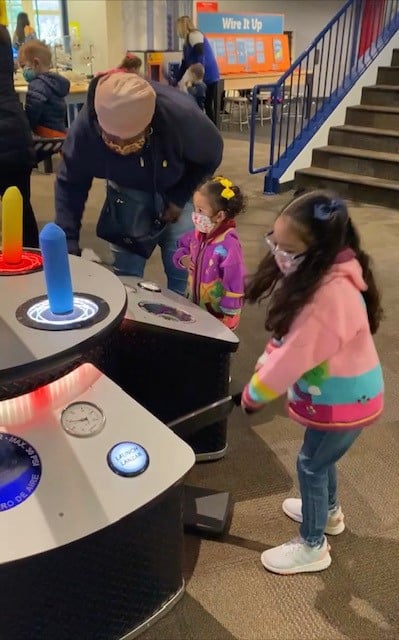 Looking to the future
The Cooks don't know what the future holds, but, as long as Aria continues to thrive and learn, Erika anticipates a full homeschooling career for Aria as long as she's enjoying the experience and getting the most out of it. And she may have a companion in the near future–her 2-year-old sister, Satiah, who goes by "Bee."
"She's usually right next to Aria, learning in tandem," said Erika. "She's soaking up everything secondhand."
So, they must get along beautifully throughout the school day. Right, Erika?
"Sometimes World War III breaks out and everyone has to take a timeout to regroup, but then we jump right back in."
Just one of the many adventures homeschooling families encounter. But that certainly won't deter the Cooks from continuing their home education journey. "We definitely see Aria homeschooling long-term, and we imagine her–and likely her sister–being Bridgeway graduates."
Erika acknowledges the hard work for all parties involved–Aria, her husband, herself, Nene, and even little Bee. But she's thoroughly enjoying the homeschooling experience thus far and has actually picked up quite a few things along the way. "It's not just the student in the classroom…it's the parents as well as the primary instructor who are learning," reflected Erika. "I was shocked at how much I learned. I was like 'Whoa, this is what they're learning in KINDERGARTEN?' It blew my mind."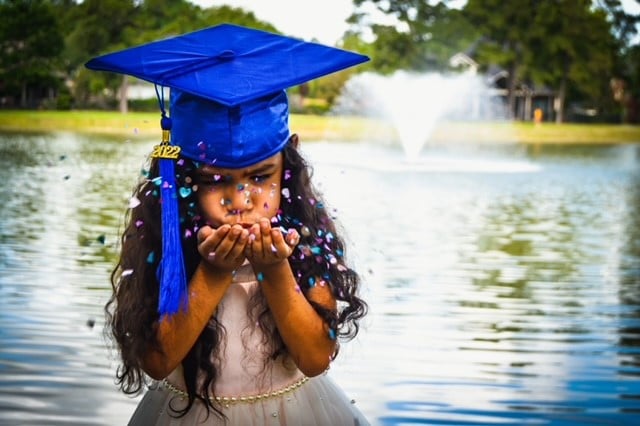 For any families out there considering homeschooling, Erika has this to offer: "It's so rewarding. It's hard work, as we all know, but we are so happy that we did [decide to homeschool]. We are all looking forward to this new year and the next chapter at Bridgeway Academy."
And for families who have decided to homeschool but are not sure which academy is right for them, Erika recommended, "Do it. Do not pass go. Do not collect $200. Go straight to Bridgeway!"
We're certainly glad Aria did (and we hope to see Bee soon!), and we look forward to seeing her at graduation…perhaps even sooner than we might expect!
To learn more about how Bridgeway Academy can offer the homeschooling flexibility you're seeking, call us at 1-800-863-1474 to speak with a homeschool expert.
Would you like your child spotlighted in our blog? If so, email us here or contact your academic advisor!