For Mia Amador, Veterans Day is extra special.
An 11-year-old student with Bridgeway Academy, Mia knows that Veterans Day is a national holiday that honors people like her dad, Master Chief Petty Officer Dennis Amador, who pilots LCAC (hovercraft) with the United States Navy.
She'll only be able to Facetime him that day, however. He's on deployment, bravely serving our country halfway around the world while his family waits patiently and prays for his safe return home to Virginia. This is just a fact of life for Mia, and her family will be without Dennis through Veterans Day, Thanksgiving, Christmas and New Year's Day.


"I don't like not having him here," says Mia, a gifted student and an aspiring elite gymnast with World Class Gymnastics in Newport News, Va. "Most kids don't like their dads being away. But I really want him to be back because I really miss him. It's really hard to homeschool without him. He really helps."
Homeschooling has been a blessing for the family's demanding lifestyle.
"Homeschooling has really given us our life back, and that's a huge thing," says mom Terri. "I feel more in control, more able to live life because we have such demanding schedules from the military standpoint. When he goes away, it's just me. I have to do everything and work full time."
Dennis has more than 28 years of service in the Navy and is planning on retiring in less than two years. The family has lived in Virginia for the last 11 years, ever since Mia was born. He expects to return home in January and finish out his service domestically. He has earned many medals and during Operation Desert Storm, he saved another person's life after their ship hit a mine.
The apple doesn't fall far from the tree when it comes to digging deep to succeed.
Mia, who won age group and level category state championships in Virginia this year and last, attended traditional school up until two years ago. The demands of six-hour gymnastics practices after school left no time for "real" life.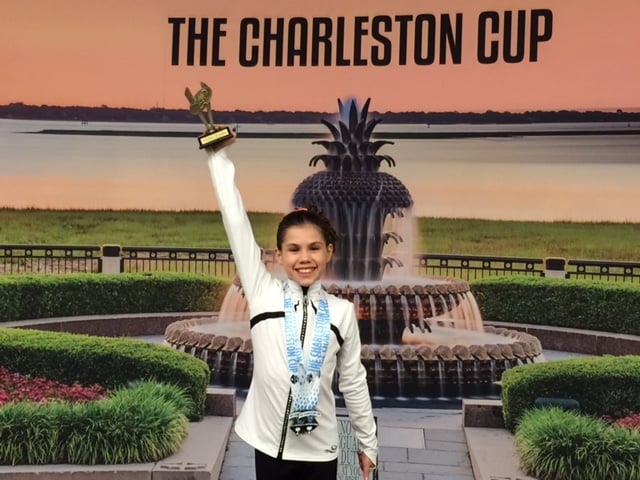 Now she has free time in the evening, as well as a flexible schedule to make up her schooling if out-of-town family visits for some fun trips.
Terri loves that Bridgeway gives Learning Style and Personality assessments.
"When we decided to do this, I had a lot of fear of homeschooling," Terri admits. "She is gifted and I was nervous that I'd mess it up. I was looking for guidance, and Bridgeway had guidance plus the assessment. They also suggested curriculum choices that were customized to Mia based on those assessment results.
Terri also enjoys a hybrid homeschool solution.
"We're not doing the online courses. I like books," she explains. "And I like the fact that you can take the tests online because that takes a lot of the burden off me. I also like that they keep academic records for us. "
While the initial decision to homeschool was born from the love of gymnastics, this military family quickly realized the other benefits. When Dennis does come home, Mia gets to spend quality time with him. She doesn't have to take time off like she would in a traditional school. Last year, they took a quick adventure to Costa Rica and zip-lined across the rainforest canopy without missing a bit of her schoolwork.
"We wouldn't be able to have a life outside of gymnastics and school if it wasn't for Bridgeway," Terri says. "It gives us a lot of freedom to have fun despite a crazy, demanding life."
Bridgeway is extremely proud of our military families and their dedication to protecting our freedom. We salute them, all our brave Veterans, and our active military men and women every day, not just on Veterans Day. We are happy to partner with our military families by providing them with scholarship opportunities and the best homeschool education available that is customized to each child and family's needs.
Learn more about how to join the academically accredited programs that allow Bridgeway families to homeschool with confidence.