Homeschooling Laws, Information, and Resources for Vermont
If you're living in Vermont and are looking into homeschooling, you're in the right place! This page provides the resources and information you need to determine whether homeschooling in the Green Mountain State is right for you.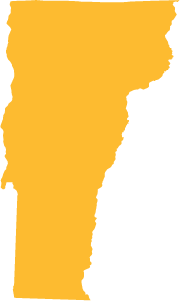 Summary of Vermont Homeschool Laws
Knowing the requirements for homeschooling in Vermont is one key to successful homeschooling. Below is a summary of the homeschool laws in the state of Vermont. You can find additional information on Home School Legal Defense Association's (HSLDA) website as well: Vermont HSLDA Reference
Homeschool Options in Vermont
To homeschool in Vermont, just follow the steps below.
Vermont State Law Homeschool Summary
To homeschool under the homeschool statute, you'll need to follow these guidelines.
Send an annual written enrollment notice to the secretary of education for each child. The notice must include:
Name and age, by year and month, of each child
Names, mailing addresses, towns of legal residence, and phone numbers of parents or guardians
Assessment of progress for each child enrolled in homeschooling the previous year
"Independent professional evidence on whether the child has a disability" for each child not previously enrolled in a Vermont public school or Vermont home study program
Names, addresses, phone numbers, and signatures of all people providing ongoing instruction in any required subject other than physical education, health, and fine arts
Signatures of all custodial parents or guardians who are legally authorized to make educational decisions for the students
Submit a narrative, which is a detailed outline describing the content to be provided in each subject area. If your child has a disability, include in the outline any special services or adaptations to accommodate the disability. The narrative is not required if you have already completed two consecutive successful years of homeschooling in Vermont, unless your child is 12 years old at the time the enrollment is filed.
Obtain acknowledgement of compliance from the secretary upon receipt of your notice of homeschooling. The acknowledgement will state that your child may be enrolled in homeschooling immediately or within 45 days after receipt of your notice.
Teach the required subjects, which include:
Basic communication skills, including reading, writing, and the use of numbers
Citizenship, history, and government in Vermont and the United States
Physical education and comprehensive health education, including the effects of tobacco, alcohol, and drugs on the human system and on society
English, American, and other literature
Natural sciences
Fine arts
Assess your child annually and submit to the secretary when you file paperwork for your next school year. The assessment may be by any one of the following:
A Vermont certified teacher may write a report in a form designated by the secretary.
Parents, the student's instructor, or a teacher advisory service (from a publisher of commercial curriculum) can prepare a report. With the report, you will need to include a portfolio of the student's work, including work samples, to demonstrate progress in each subject area in the minimum course of study. The portfolio does not need to include physical education, health, or fine arts for children over 12.
Parents may provide the complete results of a standardized achievement test approved by the secretary, administered in a manner approved by the testing company, and scored in accordance with the law. If the test does not cover all the subjects required by law, the secretary may request a portfolio and report on those subjects.
Vermont State Education Resources
Here you'll find websites for any questions you may have about education in the state of Vermont.
Vermont Homeschooling Support Groups
Whether you already homeschool in Vermont or are looking to do so, these resources are quite useful if you're searching for support, co-ops, or answers to questions about homeschooling in your state.
Top Vermont Homeschooling Field Trip Ideas
One of the many benefits of homeschooling is the flexibility to explore! Here are some ideas for amazing–and educational–field trips around the great state of Vermont!
ECHO Lake Aquarium & Science Center: Burlington, VT
Ethan Allen Homestead Museum: Burlington, VT
Fairbanks Museum & Planetarium: St. Johsnbury, VT
Lake Champlain Maritime Museum: Vergennes, VT
Montshire Museum of Science: Norwich, VT
President Calvin Coolidge State Historic Site: Plymouth, VT
Southern Vermont Natural History Museum: Marlboro, VT
Vermont Teddy Bear: Shelburne, VT
VINS Nature Center: Quechee, VT