Homeschooling Laws, Information, and Resources for Ohio
If you're living in Ohio and are looking into homeschooling, you're in the right place! This page provides the resources and information you need to determine whether homeschooling in the Buckeye State is right for you.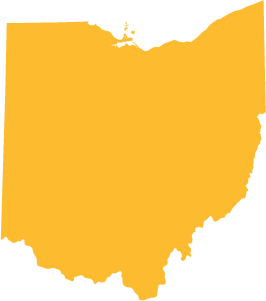 Summary of Ohio Homeschool Laws
Knowing the requirements for homeschooling in Ohio is one key to successful homeschooling. Below is a summary of the homeschool laws in the state of Ohio. You can find additional information on Home School Legal Defense Association's (HSLDA) website as well: Ohio HSLDA Reference
Homeschool Options in Ohio
Homeschooling under Ohio's homeschool statute.
Homeschooling as a non-chartered, non-tax-supported school.
Ohio State Law Homeschool Summary
Homeschooling under Ohio's homeschool statute. Children may be excused from compulsory attendance in order to be home educated if parents comply with the state's homeschool regulations.
Submit annual notification to the school district superintendent in order for your child to be excused from compulsory attendance. This must be submitted no later than the first week of the start of the public school the child would attend, within one week of the date on which the child begins to reside in the district, or within one week from the child's withdrawal from a school. The notification must provide:

School year for which notification is made
Name and address of the parent, and full name and birthdate of the child
Name and address of person(s) who will be teaching the child, if other than the parent
Assurance that the homeschool will include the required subjects ("except that home education shall not be required to include any concept, topic, or practice that is in conflict with the sincerely held religious beliefs of the parent")
Brief outline of intended curriculum
List of textbooks or other basic teaching materials
Assurance of hours and qualifications

Make sure you have the required qualifications, which include a high school diploma or GED, or scores from a standardized test demonstrating high school equivalence. A parent who lacks any of these qualifications may still homeschool under the direction of a person who holds a baccalaureate degree until the children's test results demonstrate reasonable proficiency.
Teach the required subjects, which include:

Language
Reading
Spelling
Writing
Geography
History of the United States and Ohio
Government
Math
Science
Health
Physical education
Fine arts (including music)
First aid, safety, and fire prevention

Teach the required number of hours, which equal at least 900 hours of home education per school year.
Assess your student annually using one of the options below:

Any nationally normed standardized achievement test, which may be administered by an Ohio licensed or certified teacher, or by another person that you and the superintendent agree upon, or by any person authorized by the publisher of the test. The composite score must be sent to the superintendent and must show that the child scored at least in the 25th percentile.
Submit a written narrative indicating that a portfolio of samples of your child's work has been reviewed by a qualified person and that your child's academic progress for the year is in accordance with the child's abilities. This narrative must be prepared by an Ohio licensed or certified teacher or by someone else whom you and the superintendent have agreed upon.
different form of assessment than those listed above if you and the superintendent have agreed upon it.
Homeschooling as a non-chartered, non-tax-supported school. Ohio Administrative Code 3301-35 08 permits a school that is not chartered by the state board of education, (nor seeking a charter) because of truly held religious beliefs, to operate if it meets certain minimum standards. There are specific requirements and qualifications for forming an -08 school.
Ohio State Education Resources
Here you'll find websites for any questions you may have about education in the state of Ohio:
Ohio Homeschooling Support Groups
Whether you already homeschool in Ohio or are looking to do so, these resources are quite useful if you're searching for support, co-ops, or answers to questions about homeschooling in your state.
Top Ohio Homeschooling Field Trip Ideas
One of the many benefits of homeschooling is the flexibility to explore! Here are some ideas for amazing–and educational–field trips around the great state of Ohio!
A Christmas Story House and Museum: Cleveland, OH
African Safari Wildlife Park: Port Clinton, OH
AHA! 4 Kids: Lancaster, OH
Akron Fossil and Science Center: Copley, OH
Akron Zoological Park: Akron, OH
The Amazing Garden Plant Exploratorium: Alliance, OH
American Classical Music Hall of Fame: Cincinnati, OH
American Sign Museum: Cincinnati, OH
Back to the Wild: Castalia, OH
Blazing Bucks Deer Farm and Petting Zoo: Negley, OH
Blue Rock Station Green Living Center: Philo, OH
Boonshoft Museum of Discovery: Dayton, OH
Brukner Nature Center: Troy, OH
Canton Museum of Art: Canton, OH
Children's Museum of Cleveland: Cleveland, OH
Children's Toy Museum: Carrollton, OH
Cincinnati Arts Association: Cincinnati, OH
Cincinnati Ballet: Cincinnati, OH
Cincinnati History Museum: Cincinnati, OH
Duke Energy Children's Museum: Cincinnati, OH
Museum of Natural History & Science: Cincinnati, OH
Cincinnati Nature Center: Milford, OH
Cincinnati Observatory Center: Cincinnati, OH
Cincinnati Shakespeare Company: Cincinnati, OH
Cincinnati Young People Theater: Cincinnati, OH
Cincinnati Zoo & Botanical Garden: Cincinnati, OH
Cleveland Metroparks Zoo: Cleveland, OH
Cleveland Museum of Art: Cleveland, OH
Cleveland Museum of Natural History: Cleveland, OH
Columbus Association for the Performing Arts: Columbus, OH
Columbus Museum of Art: Columbus, OH
Columbus Symphony Orchestra: Columbus, OH
Columbus Zoo & Aquarium: Columbus, OH
COSI Columbus: Columbus, OH
Crawford Auto-Aviation Museum: Cleveland, OH
Cuyahoga Valley Scenic Railroad: Peninsula, OH
Dayton International Peace Museum: Dayton, OH
Dayton Visual Arts Center: Dayton, OH
Deerassic Park Education Center: Cambridge, OH
Drake Planetarium: Norwood, OH
Edison Birthplace Museum: Milan, OH
EnterTRAINment Junction: West Chester, OH
Great Lakes Science Center: Cleveland, OH
Harding Home and Museum: Marion, OH
Harriet Beecher Stowe House: Cincinnati, OH
History of Flight Museum: Columbus, OH
Imago Earth Center: Cincinnati, OH
International Women's Air & Space Museum: Cleveland, OH
James A. Garfield National Historic Site: Mentor, OH
Kent Historical Society Museum: Kent, OH
Lake Effect Children's Museum: Rock Creek, OH
Learning Tree Farm: Dayton, OH
Little Buckeye Children's Museum: Mansfield, OH
Mad Science of Cincinnati: Cincinnati, OH
Maritime Museum of Sandusky: Sandusky, OH
NASA Glenn Visitor Center: Cleveland, OH
National Afro-American Museum & Cultural Center: Wilberforce, OH
National First Ladies Library: Canton, OH
National Inventors Hall of Fame: Akron, OH
National Underground Railroad Freedom Center: Cincinnati, OH
The Nature Center at Shaker Lakes: Cleveland, OH
OH WOW! Children's Center for Science & Technology: Youngstown, OH
Ohio Bird Sanctuary: Mansfield, OH
Pro Football Hall of Fame: Canton, OH
Rock & Roll Hall of Fame & Museum: Cleveland, OH
Southern Ohio Museum & Cultural Center: Portsmouth, OH
Taft Museum of Art: Cincinnati, OH
Trammel Fossil Park: Sharonville, OH
Westcott House – Frank Lloyd Wright: Springfield, OH
William Howard Taft National Historic Site: Cincinnati, OH
The Works: Ohio Center for History, Art & Technology: Newark, OH