Homeschooling Laws, Information, and Resources for Georgia
If you're living in Georgia and are looking into homeschooling, you're in the right place! This page provides the resources and information you need to determine whether homeschooling in the Peach State is right for you.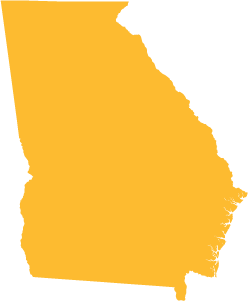 Summary of Georgia Homeschool Laws
Knowing the requirements for homeschooling in Georgia is one key to successful homeschooling. Below is a summary of the homeschool laws in the state of Georgia You can find additional information on Home School Legal Defense Association's (HSLDA) website as well: Georgia HSLDA Reference
Homeschool Options in Georgia
Homeschooling under the state statute. This is the only homeschooling option for families in Georgia. See below for the steps you need to take when homeschooling your child.
Georgia State Law Homeschool Summary
Homeschooling under the state statute. Here are the requirements for homeschooling your child under Georgia's state statute.
Meet the qualification requirements to homeschool your child. You must be a parent or legal guardian before filing a declaration of intent to homeschool that child. You may allow a tutor to help homeschool your child; the teaching parent/guardian or tutor must have a high school diploma or GED.
Submit an annual declaration of intent to the Georgia Department of Education  within 30 days after you begin homeschooling and every year thereafter by September 1. This must include the name and age of each student, the location of your homeschool, your local school district, and the 12-month period that you're considering to be your school year.
Provide the equivalent of 180 days of instruction, with each school day consisting of at least 4.5 school hours (unless your child is physically unable to meet this requirement).
Teach the required subjects, including reading, language arts, math, science, and social studies.
Write annual reports detailing the progress your child made in each required subject. This report must be kept in your records for at least three years but does not need to be submitted to public school officials.
Test your child at least every three years after completion of 3rd grade. You may administer the test if you do so "in consultation with a person trained in the administration and interpretation of norm reference tests." Results do not need to be submitted to public schools.
Georgia State Education Resources
Here you'll find websites for any questions you may have about education in the state of Georgia.
Georgia Homeschooling Support Groups
Whether you already homeschool in Georgia or are looking to do so, these resources are quite useful if you're searching for support, co-ops, or answers to questions about homeschooling in your state.
Top Georgia Homeschooling Field Trip Ideas
One of the many benefits of homeschooling is the flexibility to explore! Here are some ideas for amazing–and educational–field trips around the great state of Georgia!
Andersonville National Historic Site: Andersonville, GA
The Anne Frank Exhibit: Sandy Springs, GA
Atlanta Cyclorama and Civil War Museum: Atlanta, GA
Atlanta History Center: Atlanta, GA
Bear Hollow Zoo: Athens, GA
Chattahoochee Nature Center: Roswell, GA
Chehaw Wild Animal Park: Albany, GA
The Children's Museum of Atlanta: Atlanta, GA
CNN Studio Tour: Atlanta, GA
Cobb County Youth Museum: Marietta, GA
Coca-Cola Space Science Center: Columbus, GA
Coca-Cola World: Atlanta, GA
Elachee Nature Science Center: Gainesville, GA
Fernbank Museum of Natural History: Atlanta, GA
Fernbank Science Center: Atlanta, GA
Flint RiverQuarium: Albany, GA
Georgia Aquarium: Atlanta, GA
Georgia Museum of Natural History: Athens, GA
Georgia Southern Center for Wildlife Education: Statesboro, GA
Georgia Southern Museum: Statesboro, GA
Girl Scouts First Headquarters: Savannah, GA
Go Fish Georgia Education Center: Perry, GA
InterActive Neighborhood for Kids: Gainesville, GA
Jimmy Carter National Historic Site: Plains, GA
Kennesaw Mountain Battlefield National Park: Kennesaw, GA
The King Center: Atlanta, GA
The Little White House: Warm Springs, GA
Lucy Craft Laney Museum of Black History: Augusta, GA
Martin Luther King, Jr. National Historic Site: Atlanta, GA
The Museum of Arts & Sciences: Macon, GA
Museum of Aviation Flight and Technology Center: Warner Robins, GA
Museum of Design – Atlanta: Atlanta, GA
National Science Center (Fort Discovery): Augusta, GA
Okefenokee Swamp: Waycross, GA
Sandy Creek Nature Center: Athens, GA
Shenandoah Georgia Youth Science & Technology: Grantville, GA
Teaching Museum North: Roswell, GA
Tellus Science Museum: Cartersville, GA
Tubman African American Museum: Macon, GA
Wild Animal Safari: Pine Mountain, GA
Wildlife Wonders Zoo-To-You: Cleveland, GA