Homeschooling Laws, Information, and Resources for Alabama
If you're living in Alabama and are looking into homeschooling, you're in the right place! This page provides the resources and information you need to determine whether homeschooling in the Yellowhammer State is right for you.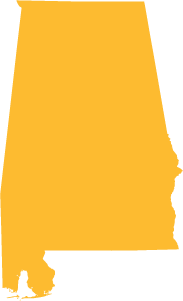 Summary of Alabama Homeschool Laws
Knowing the requirements for Alabama homeschooling is one key to success. Below is a summary of the homeschool laws in the state of Alabama. You can find additional information on Home School Legal Defense Association's (HSLDA) website as well: Alabama HSLDA Reference
Alabama Homeschool Options
Church school. Church schools offer education from preschool through 12th grade through onsite or home programs. A church school is operated as a ministry of a local church, group of churches, denomination, and/or association of churches and does not receive state or federal funding. Children can be taught at home as a church school student.
Private school. A private school is established, conducted, and supported by a non-governmental entity or agency offering educational instruction in grades K–12 or any combination thereof, including preschool, through onsite or home programs. A home may be the location where a child receives instruction as a student attending a private school. A parent may establish a home-based private school, or the home may be an extension of an existing private school.
Private tutor. Any private tutor used to teach a student must be certified as an instructor in Alabama. Tutors are required to teach a minimum of three hours a day for 140 days each calendar year. The curriculum must be the same as what is taught in public schools, and tutors are obligated to comply with the state's reporting and record-keeping requirements.
Alabama State Law Homeschool Summary
Homeschoolers in the state of Alabama fall under Option 2, Instruction as a Private School. If you are homeschooling in the state of Alabama under Option 2, you will need to follow the steps below:
Register with your local district as your own private school by October 10th and be prepared to keep documentation of the number of pupils enrolled, number of instructors, attendance records, courses of study, the length of term, cost of tuition, etc.
By the end of the fifth day of the public school calendar, you need to submit forms prescribed by the State Superintendent of Education to the county superintendent of education. Contact your local school district or superintendent's office to obtain copies of these forms.
Take attendance. All unexcused absences must be reported, so make sure you have your documentation ready to submit.
Make copies of immunization records. These are required pieces of documentation except in the case of stated religious or medical exemptions.
Keep records of Physical Education for each student enrolled in a private school. Be sure to maintain documentation of these hours throughout the year. Bridgeway Academy's Physical Education/Activity log is a great resource to help you keep track of this Alabama homeschooling requirement.
Alabama State Education Resources
Here you'll find websites for any questions you may have about education in the state of Alabama.
Alabama Homeschooling Support Groups
Whether you already homeschool or are looking to do so, these homeschool programs and resources in Alabama are quite useful if you're searching for support, co-ops, or answers to questions about homeschooling in your state.
Top Alabama Homeschooling Field Trip Ideas
One of the many benefits of homeschooling is the flexibility to explore! Here are some ideas for amazing–and educational–field trips around the great state of Alabama!
Alabama Agricultural Museum: Dothan, AL
Alabama Department of Archives and History: Montgomery, AL
Alabama Gulf Coast Zoo: Gulf Shores, AL
Alabama Women's Hall of Fame: Marion, AL
Battleship Memorial Park: Mobile, AL
Berman Museum of World History: Anniston, AL
Birmingham Botanical Gardens: Birmingham, AL
Birmingham Civil Rights Institute: Birmingham, AL
Birmingham Museum of Art: Birmingham, AL
Birmingham Zoo: Birmingham, AL
Children's Hands-On Museum: Tuscaloosa, AL
Cook's Natural Science Museum: Decatur, AL
Dauphin Island Sea Lab Estuarium/Aquarium: Dauphin Island, AL
DeSoto Caverns Park: Childersburg, AL
EarlyWorks Children's History Museum: Huntsville, AL
Gulf Coast Exploreum Science Center: Mobile, AL
Harmony Park Safari: Huntsville, AL
Helen Keller Birthplace: Tuscumbia, AL
Historic Huntsville Depot and Museum: Huntsville, AL
Imagination Place: Gadsden, AL
McWane Science Center: Birmingham, AL
Mobile Botanical Gardens: Mobile, AL
Monroe County Heritage Museum: Monroeville, AL
Montgomery Zoo-Mann Museum: Montgomery, AL
Museum of Mobile: Mobile, AL
Rickwood Caverns: Warrior, AL
Russell Cave National Monument: Bridgeport, AL
Sci-Quest: Huntsville, AL
Scott and Zelda Fitzgerald Museum: Montgomery, AL
The Selma Children's Museum: Selma, AL
Tuskegee Institute National Historic Site: Tuskegee, AL
U.S. Space & Rocket Center: Huntsville, AL