Homeschooling Laws, Information, and Resources for Michigan
If you're living in Michigan and are looking into homeschooling, you're in the right place! This page provides the resources and information you need to determine whether homeschooling in the Great Lakes State is right for you.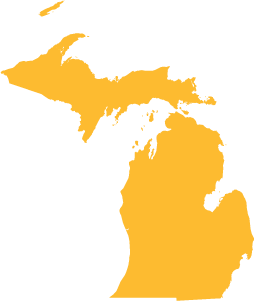 Summary of Michigan Homeschool Laws
Knowing the requirements for homeschooling in Michigan is one key to successful homeschooling. Below is a summary of the homeschool laws in the state of Michigan. You can find additional information on Home School Legal Defense Association's (HSLDA) website as well: Michigan HSLDA Reference
Homeschool Options in Michigan
Homeschooling under Michigan's homeschool statute.
Homeschooling as a non-public school.
Michigan State Law Homeschool Summary
Homeschooling under Michigan's homeschool statute. Parents who are teaching their own children at home under the homeschool statute are required to use an organized educational program covering reading, spelling, mathematics, science, history, civics, literature, writing, and English grammar. The statute does not require parents to notify local government or education authorities that they are homeschooling, and it specifically notes that parents are authorized to give home instruction.
Homeschooling as a non-public school. To homeschool your children by operating as a nonpublic school, you will need to follow these requirements.
Ensure that the instructor has the required qualifications, which include a teaching certificate, a teaching permit, or a bachelor's degree. Parents who are instructing their children and who have a religious objection to teacher certification do not have to meet any of the above teacher requirements. However, this exception only applies when the parent is the instructor.
Provide annual notification at the beginning of each school year to the local public school superintendent that you are homeschooling as a non-public school. You must provide:
Name and age of each child enrolled in your school
Number or name of the school district and the city or township and county where the parent lives
Name and address of the parent
Name and age of any child enrolled in the school who is not in regular attendance.
The Michigan Department of Education is authorized to request, in writing, your nonpublic school's records of pupil enrollment, courses of study, and qualifications of teachers. You do not need to submit this information unless it is requested in writing.
3. Teach the required subjects, which include math, reading, English, science, social studies, health, and physical education. High school students must also learn the U.S. Constitution, the Michigan Constitution, and the history and present form of civil government in the U.S., Michigan, and Michigan's political subdivisions and municipalities.
Michigan State Education Resources
Michigan Homeschooling Support Groups
Whether you already homeschool in Michigan or are looking to do so, these resources are quite useful if you're searching for support, co-ops, or answers to questions about homeschooling in your state.
Top Michigan Homeschooling Field Trip Ideas
One of the many benefits of homeschooling is the flexibility to explore! Here are some ideas for amazing–and educational–field trips around the great state of Michigan!
Alden B. Dow Museum of Science and Art: Midland, MI
Alfred P. Sloan Museum: Flint, MI
Allegan County Children's Museum: Fennville, MI
American Museum of Magic: Marshall, MI
Ann Arbor Hands-On Museum: Ann Arbor, MI
Arab American National Museum: Dearborn, MI
Automotive Hall of Fame: Dearborn, MI
Belle Isle Nature Zoo: Royal Oak, MI
Binder Park Zoo: Battle Creek, MI
Blandford Nature Center: Grand Rapids, MI
Boardman River Nature Center: Traverse City, MI
Bug House at Michigan State University: East Lansing, MI
Call of the Wild Museum: Gaylord, MI
Charles H. Wright Museum of African American History: Detroit, MI
Children's Museum of Detroit: Detroit, MI
Children's Zoo at Celebration Square: Saginaw, MI
Cindy Lou's Zoo: Roscommon, MI
Curious Kids' Museum: St. Joseph, MI
Deer Acres Storybook Amusement Park: Pinconning, MI
Deer Forest Fun Park: Coloma, MI
Delta College Planetarium and Learning Center: Bay City, MI
Detroit Historical Museum: Detroit, MI
Detroit Institute of Arts: Detroit, MI
Detroit Zoological Park: Detroit, MI
Dinosaur Gardens Prehistoric Zoo: Ossineke, MI
Exhibit Museum of Natural History: Ann Arbor, MI
Express Yourself Art Barn: Fennville, MI
Flint Children's Museum: Flint, MI
Flint Institute of Arts & Music: Flint, MI
GarLyn Zoological Park: Naubinway, MI
Gerald R. Ford Presidential Library and Museum: Grand Rapids, MI
Grand Rapids Children's Museum: Grand Rapids, MI
Great Lakes Children's Museum: Greilickville, MI
Great Lakes Naval Memorial and Museum: Muskegon, MI
Henry Ford Estate – Fair Lane: Dearborn, MI
Hudson Mills Metropark Activity Center: Dexter, MI
Hurst Planetarium: Jackson, MI
IMAX Detroit Science Center: Detroit, MI
Impression 5 Science Center: Lansing, MI
Indoor Children's Garden and Butterfly House: East Lansing, MI
Inland Seas Education Association: Suttons Bay, MI
John Ball Zoological Garden: Grand Rapids, MI
Kalamazoo Nature Center: Kalamazoo, MI
Kensington Metropark Nature Center: Milford, MI
Kids 'N Stuff: An Interactive Experience for Kids: Albion, MI
Kingman Museum: Battle Creek, MI
Love Creek Nature Center: Berrien Center, MI
Michigan Historical Museum: Lansing, MI
Michigan SEA LIFE Aquarium: Auburn Hills, MI
Michigan Women's Historical Center and Hall of Fame: Lansing, MI
Minibeast Zooseum and Education Center: Lansing, MI
Motown Historical Museum: Detroit, MI
The New Detroit Science Center: Detroit, MI
Outdoor Discovery Center: Holland, MI
Potter Park Zoological Gardens: Lansing, MI
Upper Peninsula Children's Museum: Marquette, MI
Walter P. Chrysler Museum: Auburn Hills, MI
Wilderness Trails Zoo: Birch Run, MI
Wittenbach-Wege Agriscience & Environmental Educational Nature Center: Lowell, MI
Your Heritage House Fine Arts Museum for Youth: Detroit, MI