Homeschooling Laws, Information, and Resources for Wisconsin
If you're living in Wisconsin and are looking into homeschooling, you're in the right place! This page provides the resources and information you need to determine whether homeschooling in the Badger State is right for you.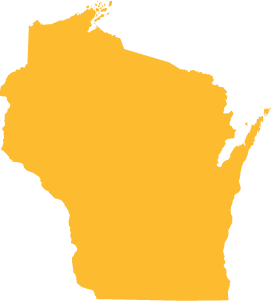 Summary of Wisconsin Homeschool Laws
Knowing the requirements for homeschooling in Wisconsin is one key to successful homeschooling. Below is a summary of the homeschool laws in the state of Wisconsin. You can find additional information on Home School Legal Defense Association's (HSLDA) website as well: Wisconsin HSLDA Reference
Homeschool Options in Wisconsin
To homeschool in Wisconsin, just follow the steps below.
Wisconsin State Law Homeschool Summary
To homeschool through a "home-based private educational program", you'll need to follow these guidelines.
File an annual statement of enrollment on or before October 15 with the Department of Public Instruction (DPI). This can be done online via the DPI's website. Your statement must include how many students in the elementary and high school grades were enrolled in your homeschool as of the third Friday in September. It must also certify that:

Your homeschool's main purpose is to provide private or religious-based education (and not to circumvent the compulsory school attendance laws)
Your homeschool is privately controlled
Your homeschool will provide at least 875 hours of instruction during the school year
Your homeschool will provide a sequentially progressive curriculum in reading, language arts, mathematics, social studies, science, and health.

Your homeschool must have a main purpose of providing private or religious-based education, which is required by Wisconsin law. You may not homeschool simply to circumvent compulsory school attendance laws.
Your homeschool must be privately controlled, meaning a public school or other government agency cannot operate a homeschool program.
Provide the required period of instruction, which is at least 875 hours of instruction each school year (July 1 to June 30). Keep track of your hours well enough that you could document 875 hours of instruction per year.
Teach the required subjects, which include:

Reading
Language arts
Mathematics
Social studies
Science
Health
You should maintain records showing your student received instruction in these subjects during all four years of high school.

Your curriculum must be "sequentially progressive"—as you teach, you move from simpler to more challenging concepts or skills.
Wisconsin State Education Resources
Here you'll find websites for any questions you may have about education in the state of Wisconsin.
Wisconsin Homeschooling Support Groups
Whether you already homeschool in Wisconsin or are looking to do so, these resources are quite useful if you're searching for support, co-ops, or answers to questions about homeschooling in your state.
Top Wisconsin Homeschooling Field Trip Ideas
One of the many benefits of homeschooling is the flexibility to explore! Here are some ideas for amazing–and educational–field trips around the great state of Wisconsin!
Above & Beyond Children's Museum: Sheboygan, WI
Aldo Leopold Nature Center: Monona, WI
Bay Beach Wildlife Sanctuary: Green Bay, WI
BayTek Games: Pulaski, WI
Betty Brinn Children's Museum: Milwaukee, WI
Bookworm Gardens: Sheboygan, WI
The Building for Kids – Children's Museum: Appleton, WI
Cave of the Mounds National Natural Landmark: Blue Mounds, WI
Central Wisconsin Children's Museum: Stevens Point, WI
Chazen Museum of Art: Madison, WI
Children's Museum of Eau Claire: Eau Claire, WI
Children's Museum of La Crosse: La Crosse, WI
Circus World Museum: Baraboo, WI
Discovery World at Pier Wisconsin: Milwaukee, WI
EAA AirVenture Museum: Oshkosh, WI
Farm Wisconsin Discovery Center: Manitowoc, WI
Haggerty Museum of Art: Milwaukee, WI
Henry Reuss Ice Age Visitor Center: Campbellsport, WI
Henry Vilas Zoo: Madison, WI
Kenosha Civil War Museum: Kenosha, WI
L.R. Ingersoll Physics Museum: Madison, WI
Lambeau Field: Green Bay, WI
Madeline Island Historical Museum: Madeline Island, WI
Madison Children's Museum: Madison, WI
Milwaukee County Zoo: Milwaukee, WI
Milwaukee Public Museum: Milwaukee, WI
Mitchell Park Horticultural Conservatory (The Domes): Milwaukee, WI
National Historic Cheesemaking Center: Monroe, WI
Neville Public Museum of Brown County: Green Bay, WI
Northeast Wisconsin Zoo: Green Bay, WI
Northwoods Children's Museum: Eagle River, WI
Northwoods Wildlife Center: Minocqua, WI
Octagon House: Fond du Lac, WI
Oneida Nation Museum: De Pere, WI
Oshkosh Public Museum: Oshkosh, WI
Paul Bunyan Logging Camp: Eau Claire, WI
Racine Art Museum: Racine, WI
Racine Zoological Gardens: Racine, WI
Retzer Nature Center: Waukesha, WI
Trempealeau National Wildlife Refuge: Trempealeau, WI
UW Geology Museum: Madison, WI
UW Space Place: Madison, WI
Washburn Observatory: Madison, WI
Weis Earth Science Museum: Menasha, WI
Wisconsin BioTrek Science Outreach: Madison, WI
Wisconsin State Capitol: Madison, WI
Yerkes Observatory: Williams Bay, WI