Homeschooling Laws, Information, and Resources for Oregon
If you're living in Oregon and are looking into homeschooling, you're in the right place! This page provides the resources and information you need to determine whether homeschooling in the Beaver State is right for you.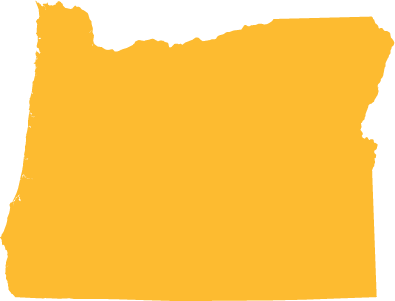 Summary of Oregon Homeschool Laws
Knowing the requirements for homeschooling in Oregon is one key to successful homeschooling. Below is a summary of the homeschool laws in the state of Oregon. You can find additional information on Home School Legal Defense Association's (HSLDA) website as well: Oregon HSLDA Reference
Homeschool Options in Oregon
To homeschool in Oregon, just follow the steps below.
Oregon State Law Homeschool Summary
Notify the education service district (ESD) by sending a one-time notice of intent to homeschool in writing within 10 days of starting your homeschool program, or within 10 days of withdrawing your child from public school to be taught at home. The notice must include your name and the names, addresses, and birth dates of the children being homeschooled. It must also include the name of the school your children are presently attending or last attended, or, if your children have not been attending school, the name of the public school district where your children reside. The ESD must acknowledge receipt of your notification in writing within 90 days of receiving the notice.
Each child is to be tested at the end of the school year in which he or she turns 9 (3rd grade), 11 (5th grade), 14 (8th grade), and 16 (10th grade) by August 15th. Parents can test their child earlier at their discretion if they believe the student has completed grade 3, 5, 8, or 10 earlier. The tests must be approved by the State Board of Education and be administered by a qualified neutral person. The administrator of the test must score the test and report the results to you. The results are not reported to the education service district unless the ESD superintendent specifically requests them.
If your child has a disability, you must have that child evaluated for satisfactory educational progress according to the method recommended in your child's individualized education plan (IEP) or privately developed plan. No testing of your student is required unless recommended in the plan.
Oregon State Education Resources
Here you'll find websites for any questions you may have about education in the state of Oregon.
Oregon Homeschooling Support Groups
Whether you already homeschool in Oregon or are looking to do so, these resources are quite useful if you're searching for support, co-ops, or answers to questions about homeschooling in your state.
Top Oregon Homeschooling Field Trip Ideas
One of the many benefits of homeschooling is the flexibility to explore! Here are some ideas for amazing–and educational–field trips around the great state of Oregon!
Children's Museum of Klamath Falls: Klamath Falls, OR
Columbia Gorge Discovery Center: The Dalles, OR
Columbia River Maritime Museum: Astoria, OR
End of the Oregon Trail Interpretive Center: Oregon City, OR
Evergreen Aviation and Space Museum: McMinnville, OR
Hatfield Marine Science Center: Newport, OR
High Desert Museum: Bend, OR
Historic Belmont Firehouse – Safety Learning Center & Fire Museum: Portland, OR
John Innskeep Environmental Learning Center: Oregon City, OR
Kids' Imagination Discovery Space (KIDS): Medford, OR
Macaw Landing Wildlife Refuge: Portland, OR
Oregon Caves National Monument: Cave Junction, OR
Oregon Coast Aquarium: Newport, OR
Oregon Historical Society: Portland, OR
Oregon Maritime Center and Museum: Portland, OR
Oregon Museum of Science and Industry: Portland, OR
Oregon Wildlife Heritage Foundation: Portland, OR
Portland Art Museum: Portland, OR
Portland Children's Museum: Portland, OR
Science Factory Children's Museum & Planetarium: Eugene, OR
ScienceWorks Hands-On Museum: Ashland, OR
Think Link Discovery Center: La Grande, OR
Tillamook Air Museum: Tillamook, OR
Tillamook Cheese Factory: Tillamook, OR
University of Oregon Museum of Natural and Cultural History: Eugene, OR
West Coast Game Park Safari: Bandon, OR
Wonderworks Children's Museum: The Dalles, OR