Dorene Gorsuch is one of Bridgeway Academy's academic advisors, but she's really so much more than a job description.
"For me, the most important part about being an academic advisor is establishing relationships with families," the mother of two grown children explains. "I want them to know that they're not just names on my list. They are real people. I like the relationships you get to build with a family that is, say, living in Australia. When the mom writes you back and treats you like she's your sister or a really good friend, that's special."
Serving High School and Special Needs
Dorene feels that connectivity in a special way through her role as an academic advisor to homeschooling students with special needs and learning disabilities who are enrolled in the Bridgeway HOPE program.
In addition to academic work, Bridgeway's HOPE provides nine months of individualized sensory integration-based learning disability therapy. Students in Hope learn to retrain their brains in a way that establishes new neurological pathways to help them overcome learning disabilities.
Whether it's working with families halfway around the world or close to the Bridgeway Academy home office in Catasauqua, Pa., Dorene and the rest of Bridgeway's academic advisors love making that connection with people.
Connecting with Parents
"I enjoy peeling parents off the ceiling," she jokes. "Usually it's the new homeschooling parents who have never homeschooled before. They frantically ask, 'What do I do?' They're going crazy. I say, 'Let's take a deep breath and I'll walk you through it.' "
Dorene enjoys guiding parents through the particulars of homeschooling. She calls it the fun part. She coaches the parents on creating a schedule, walking them through how each curriculum works, how the different modalities like Moodle operate.
"There are a lot of resources we have for parents that they don't necessarily understand right away," Dorene says. " I alert them to those, but I also try to help them calm down and get some ground under their feet. I let them know they really can do this. We're here to help them and let them know that they're not on their own."
That Family Feeling
Dorene knows the importance of creating that family feeling and connection. The unusual spelling of her first name is a combination of her two grandmothers, Dorothy and Irene. She, husband Chris, and children Shane and Pamela enjoy spending time together, especially in the outdoors, whether it's camping or fishing.
"The sun energizes me," she says. "The warmth brings me back to life. I'm a sunshine girl. I like to go camping and kayaking and be on my husband's boat. Wintertime is hard for me."
Dorene's husband Chris is a professional fishing guide and owns his own business that operates on the Susquehanna and Delaware rivers.
"I do like to fish, I really can't help it," Dorene says. "Not only am I a part of his life in a support role, but I get out there and learn a lot. And sometimes I kick his butt fishing! So it's fun."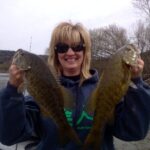 The entire family spends plenty of time together on the boat along the North Branch of the Susquehanna River in Laceyville, Pa.
"I love any moment when our family is at our camper in Laceyville," Dorene says. "There's just something about having nothing else to do, no other distractions, and we're all just playing games or on the boat fishing. It's a whole different kind of connection with people."
Caring Academic Advisors
Committed, caring academic advisors like Dorene are the key to Bridgeway's connection with our homeschooling students and parents.
Bridgeway Academy has empowered a cadre of qualified academic advisors to support, assist, advise, and keep records and transcripts for its homeschooling families. We can do it for you! Learn more on how to join the the academically accredited programs that allow Bridgeway families to homeschool with confidence.